Porcelain Enameling Effluent Guidelines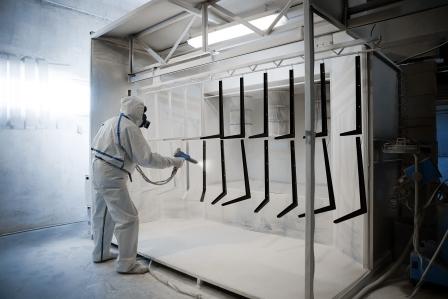 EPA promulgated the Porcelain Enameling Effluent Guidelines and Standards (40 CFR Part 466) in 1982 and amended the regulation in 1985. The regulation covers direct and indirect dischargers. The Effluent Guidelines and Standards are incorporated into NPDES permits for direct dischargers

direct dischargerA point source that discharges pollutants to waters of the United States, such as streams, lakes, or oceans., and permits or other control mechanisms for indirect dischargers

indirect dischargerA facility that discharges pollutants to a publicly owned treatment works (municipal sewage treatment plant). (see Pretreatment Program).
On this page:
---
What is the Porcelain Enameling Industry?
Porcelain enameling is the application of glass-like coatings to metals such as steel, cast iron, aluminum or copper. The purpose of the coating is to improve resistance to chemicals, abrasion and water and to improve thermal stability, electrical resistance and appearance. The coating applied to the workpiece is a water based slurry called a "slip" and is composed of one of many combinations of frit (glassy like material), clays, coloring oxides, water and special additives such as suspending agents. These vitreous inorganic coatings are applied to the metal by a variety of methods such as spraying, dipping, and flow coating, and are bonded to the base metal at temperatures in excess of 500 °C (over 1000 °F). At these temperatures, finely ground enamel frit particles fuse and flow together to form the permanently bonded, hard porcelain coating.
At the time of the 1982 rulemaking there were approximately 130 porcelain enameling facilities in the United States.
Porcelain enameling activities are included within the following NAICS groups:
332439: Other Metal Container Manufacturing
332812: Metal Coating, Engraving (except Jewelry and Silverware), and Allied Services to Manufacturers
332998: Enameled Iron and Metal Sanitary Ware Manufacturing
335221: Household Cooking Appliance Manufacturing
335222: Household Refrigerator and Home Freezer Manufacturing
335224: Household Laundry Equipment Manufacturing
335228: Other Major Household Appliance Manufacturing
Note: The NAICS listing is provided as a guide and does not define the coverage of the Porcelain Enameling category. For precise definitions of coverage, see the Applicability sections in 40 CFR Part 466.
Manufacturing Techniques and Wastestreams
There are two major groups of standard process steps used in manufacturing porcelain enameled materials:
Surface preparation is for removal of soil, oil, corrosion and similar dirt from the basis material. The clean surface allows the porcelain enamel to bond well with the basis material
Coating, including ball milling and enamel application. Ball milling is performed to mix and grind frit and other raw materials, forming an enamel slip of appropriate consistency for a particular application.
Water Use
The cleaning processes for removing oil and dirt employ water based alkaline cleaners. Acid pickling solutions are used to remove oxides and corrosion and to etch the surface of the workpiece. Water is also used to rinse the basis material after it has been cleaned by the above listed processes.
A water solution of nickel salts is used in nickel flash operations in the steel subcategory.
The ball milling operation uses water for washing out the ball mills between mixing batches and for cooling the ball mills. During application of the porcelain enamel slip, water may be used as a curtain device for entrapping waste slip from overspray.
The characteristics of the wastewater generated by a porcelain enameling facility may vary depending on basis material cleaning and coating.
Significant Pollutants
The most important pollutants or pollutant parameters are:
Toxic metal pollutants: antimony, arsenic, cadmium, chromium, copper, lead, nickel, selenium and zinc
Conventional pollutants: suspended solids, pH (abnormally high or low), and oil & grease
Unconventional pollutants: aluminum, cobalt, fluoride, iron, manganese, phosphorus and titanium.
Because of the amount of toxic metals present, the sludges generated during wastewater treatment generally contain substantial amounts of toxic metals.
---
Facilities Covered
The subcategories in Part 466 are defined as porcelain enameling on:
Steel
Cast iron
Aluminum
Copper
The regulation does not apply to porcelain enameling on precious metals.
---
Related Categories
---
Rulemaking History
1985 Amendment
Promulgated pursuant to litigation
1982 Initial Rulemaking
Documents, including:

Final Rule (November 24, 1982)
Development Document (November 1982)
Industry description, wastewater characterization, treatment technologies, regulatory compliance cost estimates and pollutant loadings for the final rule
Proposed Rule (January 27, 1981)
---
Additional Information
For additional information regarding Porcelain Enameling Effluent Guidelines, please contact Anthony Tripp, tripp.anthony@epa.gov or 202-566-1419.