Contaminant Detection and Sampling and Analysis
To protect public health following a wide-area chemical, biological (pathogen and/or biotoxin), or radiological (CBR) contamination incident, environmental sampling and analysis results will be used to make decisions regarding clean-up of contaminated areas and water distribution systems to help citizens return to their normal routines.  Examples of types of samples that might be collected include, but are not limited to, air (aerosol), water, surface (such as building materials), soil, and other materials depending upon the need.  Contamination involving CBR agents requires special sampling, handling and analytical procedures.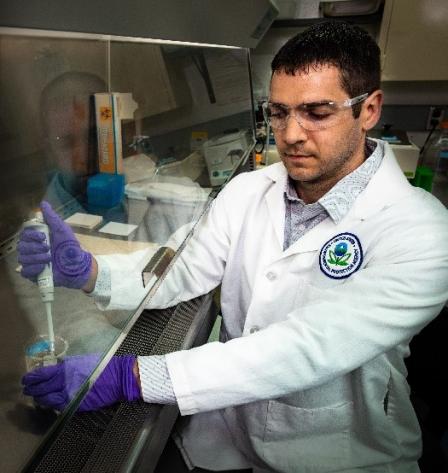 Researcher analyzing a sample for a chemical agent
The Homeland Security Research Program (HSRP) conducts research to help improve contaminant detection capabilities, sampling strategies, sample collection procedures, and sample analysis methodologies needed during these type of contamination events. As part of that effort, EPA's Environmental Sampling and Analytical Methods (ESAM) Program (link at bottom of page) was developed to provide rapid, online access to information and tools to coordinate sampling analysis during a response to a CBR contamination incident. 
The Homeland Security Research Program's work on detection and sampling and analysis is divided into the following topics:
Related Resources
EPA's Environmental Sampling and Analytical Methods (ESAM)