Contaminant Fate, Transport, and Exposure
EPA develops procedures and methods to contain and mitigate contamination and to remediate the environment following public health and environmental incidents and disasters. Contamination incidents involving wide areas could require the decontamination of multiple buildings and outdoor areas.  EPA's goal is to protect human health and the environment, and to restore contaminated areas as efficiently as possible. Knowledge of the fate (persistence and life-cycle), transport (movement), and exposure mechanisms for various types of contaminants is key to informing decisions on sampling, cleanup and restoration.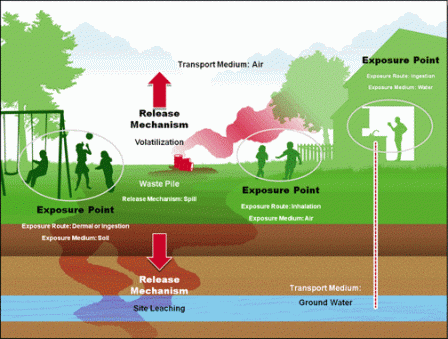 Transport and Exposure Routes
Cleanup after a wide-area contamination incident (one involving multiple buildings or acres) incident will be complex and resource intensive. Knowledge of the fate and transport of contaminants, including in water bodies and water infrastructure, is key to decision making regarding sampling, cleanup and restoration. Knowledge of potential exposure routes and magnitudes of exposure to contaminants is also key to decision making. 
EPA research focuses on identifying and quantifying issues related to fate and transport of contaminants over wide areas and in water and wastewater systems, and potential for and impacts of short-term exposures to contaminants. The work addresses gaps in information identified by environmental professionals who are faced with making decisions to minimize exposure to contaminants and to cleanup the environment. Research is first conducted at the laboratory level and then at pilot-scale to understand fate, transport, and exposure, which informs decisions regarding sampling, decontamination, waste management, and operational countermeasures.