Evaluation and Testing of Outdoor Sampling and Analysis Methods
The EPA's Homeland Security Research Program conducts research to develop methods and technologies to rapidly and cost-effectively remediate areas affected by a bioterrorism attack. Methods for detection of biological agent following an incident include swab and wipe sampling, vacuum sampling, and grab sampling.  Agent detection is done using bioagent-specific analytical method(s). These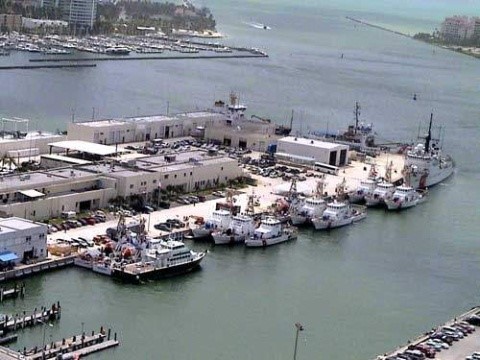 U.S. Coast Guard Portdetection and detection methods have been evaluated for their application in indoor environments; however, their performance, when utilized in an outdoor environment, is largely unknown. Determining the performance of available sampling and analysis methods for outdoors is a high priority.
The U.S. Coast Guard (USCG) bases and ports are a potential terrorist target. By the nature of their mission and location, bases and ports have unique surfaces and environments (e.g., salt encrusted surfaces) that could affect the performance of sampling and analysis methods. Additionally, standard USCG maintenance activities, such as mopping and spraying surfaces, might provide an opportunity to collect samples in novel ways.
This project task is evaluating sampling and analysis methods targeting Bacillus spores in outdoor setting relevant to a USCG  base.  Certain outdoor surface materials would be expected to be encountered in a wide-area contamination incident involving a USCG base. Coupons (samples) of these materials are being use in the evaluation.  The first phase of this task is to evaluate traditional sampling methods, such as sponge wipe sampling for non-porous surfaces and MicroVac™ sampling for porous surfaces.  The second phase will evaluate composite sampling methods utilizing USCG cleaning methods, such as rinsing and mopping. The following is a list of the material/sample methods pairs chosen for this research:
Material Surfaces – Traditional Methods
Marine grade aluminum – Sponge wipe
Marine grade aluminum, with sea salt spray –Sponge wipe
Non-skid tread – MicroVac
Non-skid tread, with sea salt spray – MicroVac
Tempered glass, with sea salt spray – Sponge wipe
Gravel – Grab / Extract
Bilge water – Aqueous grab sample
Material Surfaces – Composite methods
Marine grade aluminum, non-skid tread – Rinse water or mop material
Asphalt roofing shingles – Wash-Off or rain water
Marine grade aluminum, non-skid tread, with sea salt spray – Rinse water or mop material
Samples are to be inoculated with known concentrations of Bacillus thuringiensis subsp. kurstaki (Btk) spores (as a surrogate for B. anthracis) and analyzed using two existing EPA methods, culture and rapid viability polymerase chain reaction (RV-PCR). Coupons will be inoculated with two relatively low levels of Btk spores (10 colony forming units (CFU)/cm2 and 1,000 CFU/cm2) to challenge the recovery efficiency of the sampling methods and the detection capability of the analytical methods.  Samples will be collected over four time points: 1 day, 1 month, 3 months, and 6 months.
Progress to Date
Work on this task has been suspended in favor of higher priority SARS-CoV-2 (causative agent for the disease COVID-19) research projects; however, work on evaluating the traditional sampling methods had begun prior to the suspension.  Testing of the traditional sampling methods have commenced before the suspension, and currently remains underway.  
Results of this research was expected to be available August 2020 but will be delayed due to SARS-CoV-2 work.