Fate and Persistence Studies
Environmental fate refers to what happens to a chemical or an organism once it is released into the environment.  Persistence, in terms of environmental protection, refers to the length of time a contaminant remains in the environment. Some contaminants, termed agents, can be adapted to be used as weapons so their fate and persistence is of particular interest.  Some biological agents, anthrax spores for example, can remain dormant in the environment for decades presenting a prolonged hazard.  Other contaminants, such as many viruses, cannot survive for very long in the environment.  Chemical agents degrade, either rapidly or slowly, into other compounds that may or may not pose a risk to human and environmental health. 
EPA conducts fate and persistence studies to determine the longevity of contaminants in the environment and water systems. EPA investigated the persistence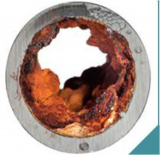 Contaminants may adhere to scale within piping and be released over time. of biological and chemical warfare agents on various types of materials under a range of environmental conditions 
including varying exposure to ultraviolet light and varying levels of humidity.
The persistence of contaminants guides EPA decision making.  For contaminants that are not persistent, human intervention to decontaminate the environment may not be necessary.  Natural attenuation, which refers to processes that naturally transform contaminants into less harmful forms or immobilize contaminants so that they are less of a threat to the environment, could be sufficient. 
For persistent contaminants, EPA needs to understand how these contaminants will behave in the environment, in other words, their fate in the environment.  Do they decompose into less toxic or into more toxic degradation products?  Do they adhere to surfaces, such as pipe walls, soil particles, only to be slowly released over time?  Will they be released at concentrations that risk human and ecological health?  Do they persist in landfills and landfill leachates?  Do they persist on building materials such that occupants can be continually exposed?  Is immediate action needed to decontaminate the environment to protect human and ecological health?
EPA conducts persistence studies to answer these questions and assist decision makers in making cost effective and protective decisions regarding response to environmental contamination.
Related Products: