Home Plumbing Decontamination

Some contaminants, termed agents, can be adapted for use as a weapon.  Like drinking water utility infrastructure, home plumbing can become contaminated with chemical, biological or radiological agents after an intentional or accidental contamination event.  Home plumbing belongs to a home or building owner, who will ultimately be responsible for returning it to service.  EPA conducts research on contaminant persistence and decontamination of home plumbing so that homeowners have tools to make informed decision about cleaning their pipes and appliance or replacing them.  Special emphasis has been placed on the following home plumbing topics:
Biological Agent Modeling
Legionella pneumophila is a bacterium that can cause Legionnaires' Disease, a potentially fatal form of pneumonia, or Pontiac Fever, a milder flu-like illness.  These infections  are caused by the inhalation of Legionella-contaminated aerosols generated from showers, humidifiers, faucets, decorative water fixtures, and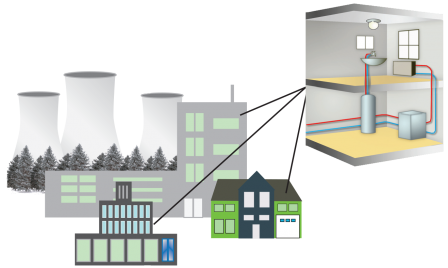 cooling towers.  L. pneumophila, and other Legionella species, are stable and persistent within large building and residential plumbing systems, making these organisms an ideal model species to evaluate home plumbing decontamination strategies for biological agents in general.  EPA is conducting research to:
understand the bacterial mechanisms enabling their persistence
evaluate various decontamination technologies to inactivate Legionella in distributed water and within biofilms, the biologically active layers that form on plumbing surfaces
determine the effect of chemical and microbial water quality parameters on Legionella growth and survival within building and home plumbing systems as well as the distribution system.
Appliances
EPA's Water Security Test Bed (WSTB) ) is being used to test equipment that replicates a section of a typical municipal drinking water piping system.  The WSTB includes a home plumbing and appliance setup.   A home water service connection feeds water to a water meter, plumbing pipes and common appliances such as a hot water heater, refrigerator, dish washer, washing machine and utility sink.  The pipe and appliance have been contaminated with biological agents, oil pesticides and other contaminants.  The effectiveness of flushing the pipes and running the appliances with and without soap as decontamination methods has been evaluated.  Reports and articles that describe this research and results can be found by following the Related Products link at the bottom of this page.
Plastic Pipe Studies
For reasons including cost and mechanical performance, polymeric materials such as polyethylene, polypropylene, and polyvinylchloride (PVC) are increasingly being used in building water systems and water distribution networks. However, compared to materials like copper or ductile iron, polyethylene is vulnerable to permeation by organic contaminants, which can be introduced into water systems following incidents such as chemical spills, back-siphoning, or sabotage. Polymers that have been permeated by organic contaminants can desorb (release) those contaminants even after the original contaminant source has been removed, extending the impact of contamination incidents. Although flushing is a commonly considered decontamination technique, the scientific literature suffers from disagreements and information gaps that complicate prediction of how much flushing is required to counter organic contamination incidents. EPA is conducting a combination of experimental studies and simulations to predict flushing decontamination times for a variety of organic molecules in polymeric pipes and plumbing system components. The findings of these studies are expected to assist decision makers, including homeowners, in selecting appropriate solutions when responding to contamination situations of pipes permeated with organic contaminants.
Related Links
Related Products
>