Water Security Test Bed
Advancing the science and engineering of decontaminating pipe systems and of safely disposing of high-volumes of contaminated water are high priorities for the EPA. The Agency homeland security researchers developed the first-of-its-scale water security test bed (WSTB). The first phase of the test bed, constructed at the Department of Energy's (DOE) Idaho National Laboratory (INL), replicates a section of a typical municipal drinking water piping system.
The cement mortar lined ductile iron pipes, used for the construction of the WSTB section were excavated after twenty years of use for water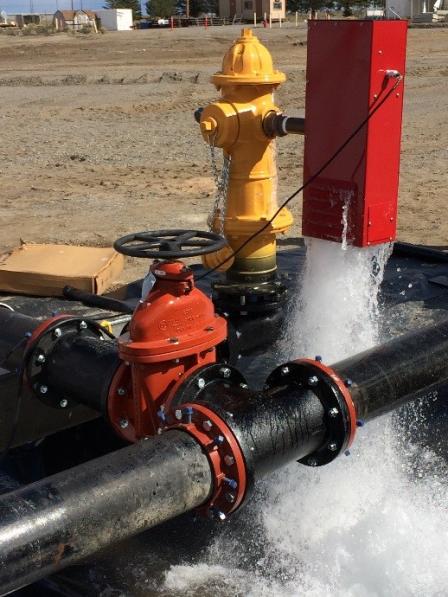 Cement mortar lined, ductile iron pipes, and auto-flushing hydrant.conveyance. These pipes allow for technology testing in an environment that simulates a typical operating water distribution system. the WSTB  was built above ground for easy access during experiments, for leak detection, and for spill containment to protect the groundwater.
The purpose of conducting research at the WSTB is to evaluate infrastructure decontamination technologies previously tested by the EPA's Homeland Security Research Program (HSRP) at the bench- and pilot-scale. Using this simulated full-scale distribution system allows for injection of contaminants that cannot be tested in operating municipal water facilities. HSRP researchers can then evaluate decontamination methodologies to determine those that are best suited for use by water utilities. The WSTB facility also enables testing of  water treatment technologies for the effective management of the water that is discharged from the contaminated pipeline into a 28,000-gallon lagoon.
Lastly, decontamination of premise plumbing and household appliances can be evaluated in an adjacent building at the site.
EPA is opening up the test bed research capability to potential collaborators such as the Department of Energy, Department of Defense,  Department of Homeland Security, universities, water utilities, and foundations interested in water security research. 
Those interested in collaborations at the WSTB may contact James Goodrich  for more information.
For additional information, watch the Water Security Test Bed  Exitvideo.