Emergency Response and Management Activities, 2013
School in Wyoming Reopens Quickly After Mercury Spill
On Thursday, February 28, 2013, more than 150 students and staff were evacuated from Big Piney High School in Big Piney, WY, after high concentrations of mercury vapor were discovered near the school's entrance. Approximately seven pounds of elemental mercury were spilled in a storage closet the previous day. The spill was not reported immediately, and mercury was spread to other parts of the school. 
Mercury is a liquid at normal room temperature, but it easily becomes a vapor as temperature rises and is extremely toxic when inhaled.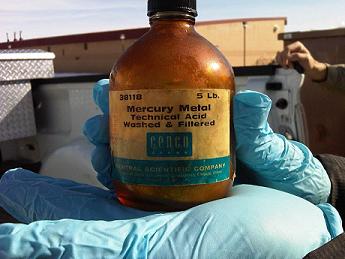 EPA arrived at the school and confirmed the high mercury reading inside the school's main entrance. Classes were canceled for the following day, and extensive cleanup efforts over the weekend led to the school's partial reopening on Monday. Although a portion of the school remained sealed off with plastic sheeting while decontamination efforts continued.
Cleanup efforts of the storage closet and classroom next door included:
cleaning or disposing of the contents of the storage closet,
removal of ceiling and floor tiles, and
vacuuming and washing surface areas with mercury soap, applying sealant to the walls and epoxy on the floors.  
Desks and stools were taken to a heated area to drive off the mercury vapor and were then washed.
The building was vented strategically to enable the flow of air to the outside.
EPA also attempted to decontaminate some of the school's equipment, including a telescope, microscopes, human skeletal and anatomy models, laptop computers and other electronics.  After multiple cleanings and ventings, the telescope and microscopes were still not safe to use, but the other items were successfully decontaminated. By the morning of March 6th, mercury readings were at acceptable levels in all sections of the school.
Sublette County School District sent a letter of appreciation, commending EPA's quick response that protected students and faculty from harmful mercury vapors.
EPA Removes Perchlorate Contamination in Barstow, CA
In November 2010, the Golden State Water Company detected perchlorate in the drinking water supply of Barstow, CA that exceeded safety limits set by the state.  Golden State advised its customers against drinking the water until further notice, and the Governor declared a state of emergency for San Bernardino County.  In December 2010, California requested assistance from EPA to investigate sources of the perchlorate contamination.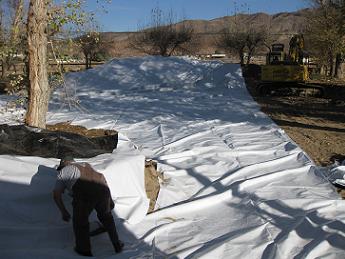 Barstow was also home to Mohave Pyrotechnics, a pyrotechnics manufacturing company that used perchloric acid, a chemical used in rocket fuel, fireworks, flares and explosives.  Perchlorate can interfere with the thyroid gland.
EPA began assessing the situation in March 2011, focusing on the residential property of the former owner and operator of the Mohave Pyrotechnics manufacturing facility.  Perchlorate sampling was conducted at two distinct areas on the property, extending to groundwater. EPA collected more than 200 soil samples from the residence and uncovered a layer of highly concentrated perchlorate in a garden adjacent to the residence.
Thanks to considerable planning efforts, EPA was able to begin removing contaminated soil in December 2012 and complete the process in less than a month. More than 1,000 tons of perchlorate contaminated soil was excavated, transported and disposed. The excavated areas were lined before being backfilled with clean soil.
Abandoned Drums Found and Removed near Poplar Bluff, MO
In March of 2012, EPA responded to a citizen's tip that there were leaking drums at a facility operated by the Southern Machine and Tool Company (SMT). SMT was founded in 1968 and was permitted by the Missouri Department of Natural Resources (MDNR) as a generator of hazardous waste. However, SMT never submitted details of any waste disposal activity, and MDNR deactivated the permit. The facility was later left unattended for years.
EPA tracked down the current owner of the property and found more than 600 bulging and leaking drums and containers of hazardous substances. In addition, sheds that once protected the drums had fallen, creating additional hazards.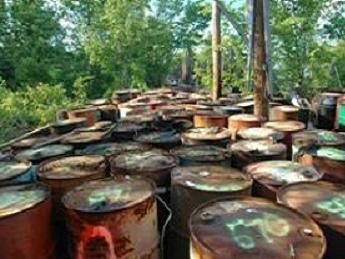 As EPA's cleanup began in June 2012, crews spent a lot of effort removing debris and decaying structures just to get to the hazardous materials. Once the containers were accessed, EPA removed and consolidated the contaminated liquids they contained. EPA then crushed the empty drums for disposal as solid waste. By the end of July, the liquid and solid wastes were removed from the site for safe disposal.
With the waste removed, the next step was to investigate the underlying soil for more contamination. EPA collected soil and water samples from the surface and below the surface, and determined that soil needed to be excavated up to two feet in six areas. As a result, more than 60 tons of contaminated soil and approximately 20,000 gallons of hazardous materials were removed from the site. By February 2013, EPA completed the disposal of soil and restored the site to nearly original conditions with clean soil.
EPA Cleans Up Hazardous Chemicals at "Mad" Chemist's Site in Canton, OH
In January 2013, local law enforcement responded to a residential break-in at a duplex located in Canton, OH. While investigating the break-in, local police noticed chemical containers inside the apartment.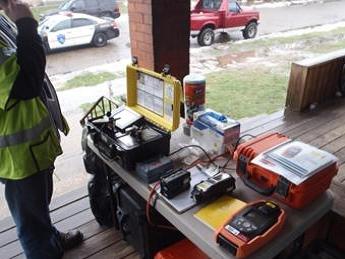 The local fire department, Summit County Hazardous Materials Team (HAZMAT) team, Ohio EPA, FBI, and the Canton bomb squad were called in to respond. Ohio EPA and the Summit County HAZMAT team requested EPA's help with identification and disposal of the chemicals. EPA worked with the local and state agencies and coordinated with the FBI to inventory and document the chemicals, perform air and radiation monitoring, and gather additional information from surrounding neighbors.
EPA's response, assessment, monitoring, cleanup, and off-site waste disposal were completed in one day.
EPA Removes Illegally Stored Chemicals in Cedar Falls, IA
EPA completed the removal of thousands of gallons of toxic liquids and hundreds of tons of hazardous soil waste at the Cedar Valley Electroplating facility in Cedar Falls, IA. Cedar Valley Electroplating was formerly involved in electroplating zinc onto carbon steel parts. The company operated an 8,500 square-foot facility in an industrial park adjacent to a day care center and a technical college satellite location.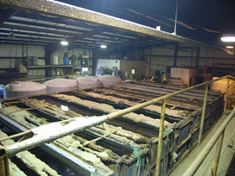 EPA conducted compliance inspections under the Resource Conservation and Recovery Act (RCRA) and found illegal storage and disposal of electroplating waste chemicals normally considered hazardous waste because of their corrosive and toxicity characteristics. In October 2011, the Cedar Falls Fire Department reported to EPA that the facility had apparently ceased operations, abandoning a large quantity of hazardous waste, including caustic and chromate plating and rinse baths as well as numerous containers of process and waste chemicals.
In February 2012, EPA executed a search warrant at the facility and seized business records and samples from on-site containers. Several containers and
tanks had leaked chemicals onto the building's floor and into the soil outside the building, threatening health and safety at the nearby day care center and technical college. The site was referred to EPA in May after the owners failed to properly respond to a RCRA order. EPA conducted a 13-week clean up that began in the summer and lasted into fall. EPA categorized and disposed of 48,000 gallons of toxic liquids and more than 250 tons of hazardous solid waste to eliminate threats to human health at and near the site.
EPA Orders Disposal of Highly Reactive Zirconium Drum Waste
On December 17, 2011, an explosion killed an employee of Heritage ATI and severely injured a second in East Liverpool, OH, as they were transferring waste from shipping containers to feed into an incinerator.  The waste was turnings from the milling of zirconium metal and generated by the responsible party, ATI Wah Chang.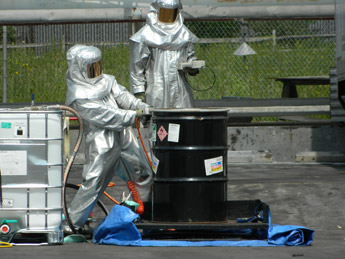 The reactive milling waste was packed in 55 gallon drums, which was then over-packed in 85-gallon drums saturated with water soluble oil.  Zirconium metal is highly flammable and may ignite in air when dry.  The drums were not known to contain any zirconium metal, and six of the 40 drums were transferred and treated without incident.  Treating the seventh drum resulted in the explosion, and the remaining 33 drums were secured and not processed.
Over the next several months, ATI Wah Chang and Heritage WTI were unable to come to an agreement on how to address the remaining drums.  In April 2012, EPA was contacted by Heritage WTI to coordinate disposal and proper handling of the 33 remaining drums.  In May, EPA ordered ATI Wah Chang and Heritage WTI to properly manage and dispose of the remaining drums of highly reactive zirconium waste.   EPA ensured that the responsible parties completed the necessary actions and worked with the U.S. Department of Transportation Pipeline and Hazardous Materials Safety Administration (DOT-PHMSA).
EPA oversaw the drum stabilization and loading procedures of all remaining drums in July to ensure that they were safely secured for transport to the disposal facility.  A contractor specializing in handling reactive materials stabilized the drums by remotely puncturing the drums and saturating the material with a sodium silicate solution.  The drums were then prepared for shipment and transported to Chemical Waste Management in Arlington, OR for disposal.
EPA Cleans Up Abandoned Uranium Mine Site in Navajo Indian Country
In November 2012, EPA completed the cleanup of radium contaminated soil at the Section 32 Site, an abandoned uranium mine near Grants, NM, in Indian Country on the Navajo Nation. The Section 32 site, located near Navajo residents of the Casamero Lake Chapter, includes an unfenced deep mineshaft, uranium ore transfer station, and mining waste piles covering approximately 20 acres.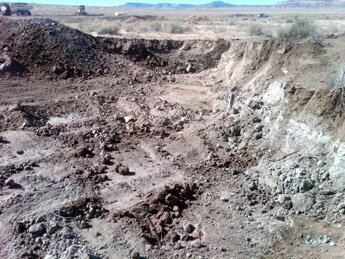 EPA conducted an assessment of the radioactive wastes, which pose significant radiation hazards if inhaled, using correlated gamma scanning and collected significant high-quality contamination data. EPA also reached out to the Navajo community using Navajo translators and translated fact sheets to discuss cleanup options. Working closely with the Navajo Nation Environmental Protection Agency, Casamero Lake Chapter officials and the Navajo Nation tribal government, EPA quickly implemented the cleanup plan.
The cleanup consisted of excavation, consolidation and stabilization of almost 30,000 cubic yards of soil contaminated with uranium, radium 226 and radon, spread over more than 550,000 square feet. The vertical mine shaft was backfilled, and the excavated areas were restored with regraded slopes, sediment basins and repaired drainages. Seven water weirs were installed in the excavated area to reduce erosion due to storm water runoff and promote vegetative growth. During the cleanup, air monitoring was conducted to ensure that fugitive dust emissions were minimized. Nearby residents were temporarily relocated to eliminate their potential exposure.
EPA completed the cleanup on November 20, 2012, and will inspect the soil stockpile and storm water controls in the spring of 2013 to ensure they are operating as designed. The cleanup of the Section 32 Site represents a significant achievement in eliminating human exposure to dangerous radium contaminated dusts and is another step toward addressing the harmful legacy left by abandoned uranium mines on the Navajo Nation.