Emergency Response and Management Activities, 2015
EPA Protects Yellowstone River from Oil Spill
In January 2015, approximately 1,200 barrels of oil were released into the Yellowstone River when a 12-inch pipeline buried beneath the river was compromised.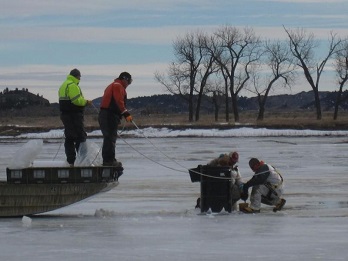 Temperatures had dropped to minus 5 and ice, as much as 5-feet thick, covered the Yellowstone near Montana's border with North Dakota. The location of the spill and the frigid temperatures made this response particularly challenging.
The frozen water prevented the oil from coating the banks of the river but also made the sheen difficult to track by sight or smell. As soon as pressure gauges revealed that a release had occurred, Bridger personnel shut off valves on either side of the Yellowstone, isolating 900 barrels of oil. Bridger was able to recover a large portion of that oil, which was trapped in the lines.
EPA arrived on-scene and began working with the State of Montana and Bridger personnel. Crews worked on the ice, tethered to wind powered boats that skated on the frozen surface. They collected what oil they could but were only able to clean up 60 barrels of the spill.
Another challenge was the condition of water coming from the Glendive water treatment plant, which is 6.5 miles downstream on the Yellowstone. Customers were complaining of bad taste and odor, but there was no visible oil or odor. Water sampling revealed elevated levels of hydrocarbons.
A "do not consume" advisory was issued, and bottled water was distributed to area residents. Work began to flush the plant's distribution system, and instructions were sent to area residents on how to flush their homes. The entire distribution system flush took about 36 hours, and soon after, an all-clear was issued. A fish consumption advisory was also issued immediately after the release, but testing indicated that volatile organic carbon (VOC) levels in the water had declined.
Within a few weeks, temperatures began to soar, and the ice became too thin to safely support work crews. EPA anticipated that oil trapped in cracks in the ice would cause a surge of off-gassing at the plant when the ice break-up occurred. The City of Glendive took measures that enabled them to provide treated water to the city for roughly 2.5 days without adding any water to the system.
On March 14, the ice on the Yellowstone River upstream of the plant began to break very quickly because of the rising temperatures. The City shut down its water intake and issued a request for residents to conserve water while adjustments were made and bottled water was made available.
The ice broke, and as expected, concentrations of VOCs spiked. EPA and the other responding agencies, in consultation with the City of Glendive, decided to add an aeration unit to strip VOCs and aid filtration. The following day, with additional treatment in place, the City of Glendive resumed pumping water from the Yellowstone River.
EPA Cleans Up Abandoned Biodiesel Plant in Odessa, WA
In March 2015, EPA Region 10 deployed to assess and clean up an abandoned biodiesel plant in Odessa, WA after the Washington State Department of Ecology requested assistance.  They were concerned that uncontrolled hazardous wastes, chemicals containers, and other unsecured hazardous substances could pose a threat to human health and the environment. The site was abandoned in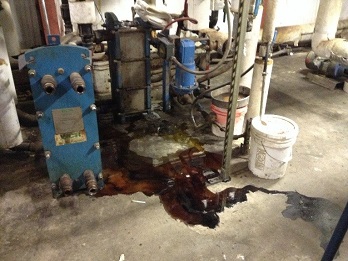 June 2014 and encompasses approximately four acres with a large facility building and exterior tanks.
The interior of the building contained several unsecured large tanks and chemical totes that had not been drained and decontaminated. Many drums and totes were leaking and in poor condition. Several incompatible chemicals were stored together and posed risk of a spontaneous chemical reaction or explosion. EPA found approximately 1,000 chemical containers ranging from large above ground storage tanks to totes and buckets in various states of integrity.
Chemicals found onsite included:
methanol,
sodium methylate,
glycerin,
sulfuric acid, and
sodium hydroxide. 
Many totes of sulfuric acid were found leaking, and valves on storage tanks appeared to be corroding with crystals forming on them. Immediate action was necessary to stabilize and clean up the site. All chemicals were processed and segregated into appropriate waste streams for disposal, and all tanks were emptied of product. It took ten days to stabilize the numerous chemical totes, sacks, and other containers located on the property and treat and dispose of the wastes.
EPA Cleans Up Radiological Contamination in Boise, ID
In October 2014, EPA Region 10 responded to an apartment in Boise where radioactive materials and radiological contamination were found. The Idaho Department of Environmental Quality and the Nuclear Regulatory Commission (NRC) discovered that a resident collected radiological materials, including items containing Americium and Uranium. The resident was processing some materials, which resulted in loose radioactive material contaminating the apartment and the sidewalk outside.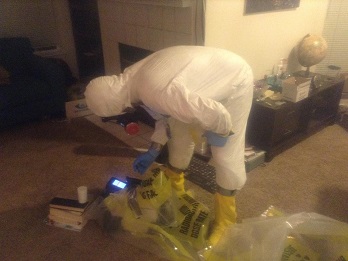 EPA's response team included two On-Scene Coordinators and other support personnel.  Cleanup preparations included:
temporary relocation of the two apartment residents and several meetings with the apartment complex residents;
a radiological survey of adjoining apartments and outside areas;
development of communications materials; and
clean up of two vehicles belonging to the apartment residents, garages and storage units.
EPA was supported by an 8-person radiological emergency response team headed by the Department of Energy.  An assessment of the area revealed 102 radiological sources or radiologically contaminated items, which were removed from the apartment, vehicles, and storage unit. An additional 36 non-radiological hazardous substances were removed.
In December 2014, EPA was notified by the NRC that the apartment resident had also potentially contaminated a metal fabrication facility in Boise. According to the shop owners, the resident asked them to cut a block of depleted uranium into smaller pieces, which may have resulted in contamination.
EPA found and cleaned up uranium contamination on the facility's metal grinder. EPA also coordinated with the U.S. Agency for Toxic Substances and Disease Registry and the Idaho Department of Health and Welfare to answer questions and educate potentially exposed workers at the metal shop.
EPA Responds to Train Derailment and Crude Oil Release in Galena, IL
On March 5, 2015, EPA responded to the derailment of a Burlington Northern Santa Fe (BNSF) train approximately three miles southwest of Galena, IL. The derailment happened adjacent to the Galena and Mississippi Rivers. Twenty-one cars derailed, and twelve burned and released more than 300,000 gallons of crude oil to the ground. More than 400 personnel from federal, state, and local agencies were involved in the initial response.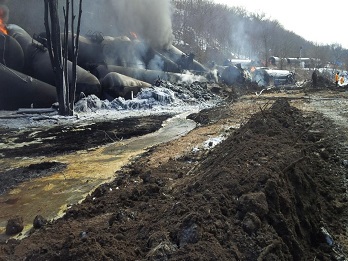 Responding to the incident took considerable coordination and planning. EPA's monitoring and response efforts had to be conducted in conjunction with the Federal Railroad Administration's accident investigation and BNSF's repair of the rail line.
More than 50 trains run on this line daily, and a bike path was the only way to access the site. During the initial phase of response, EPA conducted air monitoring to assist in documenting the potential threat to the community from the ongoing fire.
EPA, Jo Daviess County, Illinois EPA, and BNSF then addressed the threat of release of crude oil to Harris Slough, which runs west of the derailment site. EPA's response team provided:
oversight of site safety;
sampling of air, soil, and water; and
direction on appropriate response activities.
Response activities included:
removing the remaining oil from the  de-railed cars and from the surrounding area;
removing pooled oil and water from a nearby wetland between the tracks and Harris Slough; and
installing containment to prevent contamination of Harris Slough.
EPA and the response team recovered more than 260,000 gallons of crude oil and oil-water mix. Approximately 217,000 gallons of contact water were treated, and more than 3,500 tons of contaminated soil were excavated.
EPA Cleans Up Lead Contaminated Soil in Terre Haute, Indiana
In 1997, Indiana's Department of Environmental Management (IDEM) discovered hazardous wastes from a metal scrapping facility in approximately 28 acres of wetland near downtown Terre Haute.  Foundry sand and furnace bag house dust, which are used to make metal castings, were disposed of improperly throughout the facility.  Lead contamination was also found.  Lead poisoning can cause abdominal pain, fatigue, difficulty concentrating, and headaches.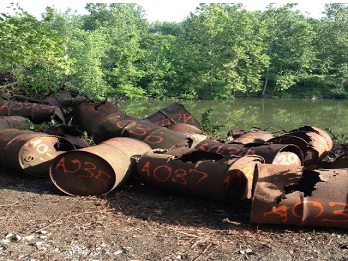 IDEM performed initial cleanup. However, EPA was needed for additional work before the City could begin construction on a new walking path and improvements to the local sewer system. The City documented various wastes including:
abandoned drums,
aboveground storage tanks,
automobile salvage,
foundry sand,
coal ash, and
cinders in areas of the wetland that were not addressed by IDEM.
EPA began cleanup in May 2014. Activities included assessing the drums and tanks, determining the extent of the lead contamination in the soil, and stockpiling and disposal of waste. Approximately five acres of the site were evaluated for elevated metals in waste piles and surface soil, and elevated lead was found throughout the site.
Waste piles and approximately 2,000 tons of contaminated soil were excavated. Barriers were placed around the contaminated areas and were backfilled and graded with clean soil. Cleanup was completed in August 2014, allowing the City to begin construction of the sewer improvements and walking path.
EPA Removes Asbestos and PCB Contamination from School in Tazlina, Alaska
The Copper Valley School in Tazlina, Alaska was boarding school for native Alaskan children that closed in 1971. A fire swept through the main school building in 1976, and the resulting debris pile remained unattended for almost 40 years.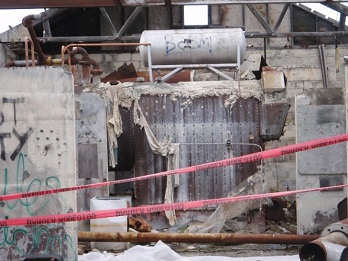 Many hazards existed throughout the property including:
exposed asbestos fibers;
polychlorinated biphenyls (PCBs);
unstable buildings;
dumpsites;
open well shafts and pits;
underground storage tanks; and
containers of unknown substances.
The asbestos and PCBs were the main hazards that were addressed by EPA. Exposure to asbestos increases risk of lung disease and mesothelioma. PCBs have been linked to cancer and other effects on the immune, reproductive, nervous, and endocrine systems.
EPA began cleanup in August 2013. Cleanup activities performed included:
surface pickup of asbestos containing materials (ACM) from around site structures;
removal of ACM, with sorting of demolition debris;
investigation and cleanup of various dumpsites throughout the site;
a property-wide search for other potential dump sites; and
off-site transportation and disposal of hazardous materials.
Approximately 900 bags of exposed asbestos fibers and 3,400 cubic yards of asbestos were transported for disposal. Two drums of PCBs and various batteries and greases were also disposed. Approximately 12,000 cubic yards of concrete and metal debris and seven underground storage tanks were also removed from the site. Cleanup was completed by October 2014.