Emergency Response and Management Activities
This page highlights EPA's emergency management activities and accomplishments from around the country. These activities showcase EPA's unique emergency response capabilities through the use of cutting-edge technologies and innovative cleanup strategies.
Fall 2017
EPA'S RESPONSE EFFORTS TO HURRICANES HARVEY, IRMA, AND MARIA
When EPA's response efforts for Hurricane Harvey began in late August, few imagined that two additional major hurricanes would hit the country in the following weeks. Months later, EPA continues to actively respond to the devastation.
Across all impacted areas, drinking water and wastewater systems suffered. EPA teams assessed over 5,900 drinking water systems and nearly 1,200 wastewater systems. Efforts included includes sampling, analysis and lab support, and getting wastewater treatment systems up and running.
EPA completed assessments of nearly 250 National Priorities List (NPL) sites, EPA removal and oil sites, as well as at more than 1,300 regulated facilities.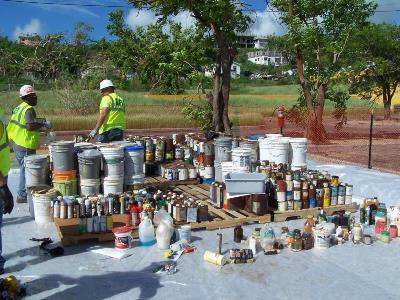 EPA coordinated with the Federal Emergency Management Agency, the U.S. Army Corps of Engineers, and local governments on an overall debris management strategy to keep hazardous waste out of the environment. These actions maximized recycling efforts by segregating debris piles and minimized the amount of waste going to landfills. EPA assisted with the handling and disposal of:
household hazardous waste,
medical waste,
e-waste, and
orphan containers, including more than 1,500 containers displaced by the hurricane found floating in or washed up near waterways.
EPA also conducted air monitoring at collection areas and during all hazardous materials operations.
In Puerto Rico, U.S. Virgin Islands, and Florida, EPA and U.S. Coast Guard teams collaborated to recover more than 1,800 sunken vessels. EPA's role included recording the vessel's location and collecting information such as:
the name of the vessel and identification number,
condition,
impact to surrounding areas and/or sensitive/protected habitats (e.g. mangroves, coral reefs) for future recovery missions and owner notifications. 
EPA prioritized the recovery of vessels found to be actively leaking fuel or hazardous materials, placing containment and absorbent booms to decrease contamination. Once the damaged vessels arrived onshore, EPA handled various hazardous materials for recycling and disposal, including petroleum products (oil, gas, or diesel fuel), batteries, and e-waste.
In Texas, communities worried about Hurricane Harvey's impact at NPL sites and other industrial facilities. Material at the Arkema Chemical Plant caught fire, and local officials requested EPA's help. EPA monitored smoke and air quality, deploying ASPECT to monitor for airborne toxic chemicals and the potential for additional fires in the area. EPA also collected downstream surface water samples at four locations outside the evacuation zone, to analyze for volatile and semi-volatile organic chemicals.
For each event, EPA mobilized quickly, deployed personnel, activated Emergency Operations Centers, and established incident command posts. In Puerto Rico, EPA personnel were the first responders of any kind to reach some rural communities.
EPA remains focused on environmental impacts and potential threats to human health, as well as the safety of those in the affected areas.
---
Summer 2016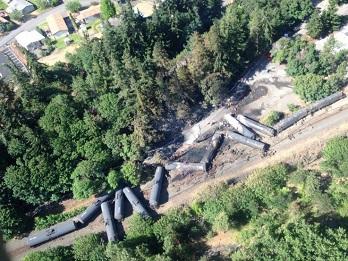 On June 3, 2016, a 96-car train carrying crude oil derailed near Mosier, Oregon, a small town along the Columbia River. The Columbia River serves as a major transportation route for barge, rail, and truck traffic carrying goods to the west coast and beyond. 
The derailment occurred near Rock Creek, a direct tributary about 400 feet from the Columbia River. The location of the derailment is considered culturally and historically important to Native American tribes like the Confederated Tribes of the Warm Springs in Oregon and the Yakama Nation in Washington.
Sixteen cars derailed and three caught on fire. The derailment ripped off a sewer manhole cover, causing oil to spill into Mosier's wastewater treatment plant. Local law enforcement evacuated more than 140 residents from a nearby residential area that was adjacent to the spilled oil and resulting forest fire. Residents of the City of Mosier were placed on evacuation alert in case things got worse.
This derailment had all of the markings for a potentially large environmental disaster. An estimated 47,000 gallons were released from these train cars. However, EPA has been training on this very scenario. EPA's earlier exercises tested the coordination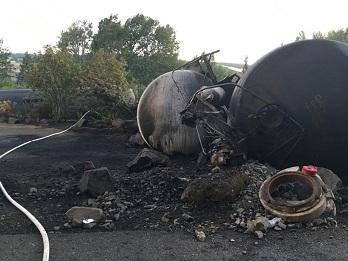 procedures needed among many state and local groups that would be involved in the cleanup. It included representatives from four Tribal nations, and about 100 representatives from all levels of government in Washington and Oregon.
EPA Region 10 personnel integrated into a diverse response group including:
15 fire departments from across Oregon and Washington,
The Oregon Department of Environmental Quality,
The Washington Department of Ecology,
Yakama Nation, and
Union Pacific Railroad. 
Boom was deployed along the Columbia River and Rock Creek to prevent the spread of oil. Foam was used to extinguish the fire. Soil contaminated by oil was excavated to a nearby site. The evacuation order for Mosier residents was never issued because the situation did not worsen.
On April 25, 2016, the EPA received an anonymous complaint about unsafe handling and disposal of asbestos during the demolition of a burned-out mobile home in Oregon. The mobile home was in Pleasant Hill, a rural, residential community near Eugene in western Oregon. Asbestos is a hazardous substance commonly found in building materials. When inhaled, it can lead to a number of diseases, including lung cancer, mesothelioma, and asbestosis.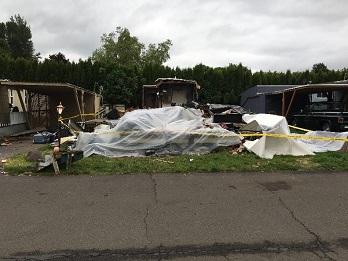 The county-run Lane Regional Air Protection Agency found asbestos and asbestos contaminated debris at the demolition site, the home of a demolition crew member, and a local landfill. County officials specifically instructed the demolition crew member not to move any asbestos or debris from the demolition site. 
On May 4, EPA Region 10 response personnel went to Pleasant Hill to determine what kind of cleanup was needed. 
Working hand-in-hand with Lane County health officials, EPA informed local residents of the health risks of asbestos and their plan for cleaning it up. Community members were given an opportunity to provide their concerns and feedback on the cleanup plan. Those in attendance were supportive of EPA clean-up efforts. 
This cleanup involved the removal of about 193 cubic yards of asbestos – or roughly 39,000 gallons – from the demolition site, the crew member's home, and the landfill. Household hazardous materials containers and electronic waste – like televisions and computer monitors – were also cleaned of asbestos before recycling.
---
Spring 2016
EPA exercises various response scenarios as a critical part of its strategy for preparing for emergencies. On September 22, 2015, EPA Region 10 hosted an exercise involving a hypothetical train derailment that released 150,000 gallons of crude oil into the Columbia River in Portland, OR. The derailment would have significant impacts to the local environment and tourist economies and regional commercial transportation.
Four Native American tribes have fishing rights and culturally-significant sites in the Columbia River and on its shorelines. The Yakama Nation, Umatilla Tribe, Makah Tribe, and approximately 100 representatives from different levels of government participated in the exercise. It focused on the coordination that would be an essential part of any response of this magnitude.
Three collaborative sessions were held to establish an understanding of how federal and state governments respond to oil spills. There was also discussion about the operation of a hydroelectric dam on the Columbia River and the cultural and economic importance of the river's natural resources to the tribes. Input from area tribes was critical to the success of the response and ensuring that their treaty rights are protected
In late December 2015, a major weather system dropped approximately ten inches of rain over three days across much of the central United States. The Meramec River basin hit record flood stages in the St. Louis area, and 14 people died. More than 9,500 customers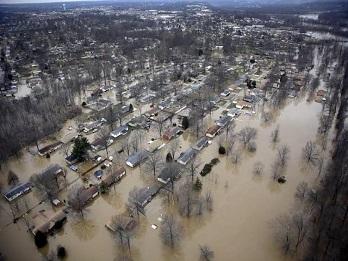 lost power. Many area roads and highways were closed, and several thousand homes and businesses were flooded in four counties in the St. Louis area.
A federal emergency disaster declaration was made for the flooded areas. The Federal Emergency Management Agency tasked EPA Region 7 with  curbside collection and disposal of household hazardous waste, freon-containing household appliances, electronic goods, and orphaned hazardous material containers. EPA also collected and disposed of all flood related demolition debris, sand bags, and wood debris from homes and public areas in the flood zone.   
From January to late February 2016, EPA's work resulted in the recycling, treatment or disposal of more than 2,200 dump truck loads of residential flood debris. EPA's response teams collected more than:
300 drums,
20,000 assorted small containers,
100 large containers,
170 propane tanks,
260 compressed gas tanks,
1,000 major appliances such as refrigerators and stoves,
400 batteries,
170 small engines, and
6,000 other electronic items.
Field teams outfitted with mobile geographic information system (GIS) apps collected and updated target information while on collection runs. Geotagged photos, impacted areas, and waste target data were captured and streamed near real-time to a web site that was used by responding agencies. This enabled EPA and its federal and state partners get a better picture of response operations, direct response crews, and track progress.
---
EPA Leads Coordinated Response to Local Mercury Spill in North Dakota
On June 4, 2015, an emergency call reported children playing with a jar of mercury that spilled onto a sidewalk in Grand Forks, ND. The spill occurred adjacent to storm drains less than a half block from a local elementary school. The Grand Forks Fire Department discovered that the mercury had been tracked through area homes and possibly into the school. EPA assistance was requested, and an EPA On-Scene Coordinator (OSC) was mobilized.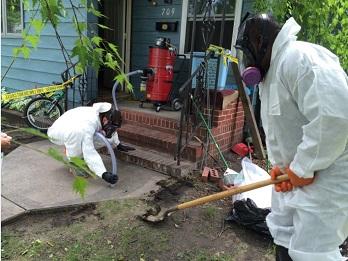 Once the OSC arrived, the first steps were to remove visible mercury and determine the levels of mercury vapor. Fire department personnel recovered approximately three pounds of elemental mercury in a jar at one of the homes, and a family with four children was evacuated. The Grand Forks Health Department worked with school authorities to notify parents and neighbors.
After the mercury was removed, an assessment was conducted, and the list of potentially contaminated properties was reduced to a few residences. Air monitoring in one of the homes measured at 7,500 ng/m³, much higher than the action level of 300 ng/m³. Six children and an infant were sent to the hospital for checkups. The OSC coordinated with the Centers for Disease Control to review the children's lab results and consult with county health officials.
The cleanup involved up to 10 lbs. of elemental mercury. The kitchen floor, a dozen rugs, and 38 bags of miscellaneous household items were removed and disposed. Two 55-gallon drums of contaminated soil and several cubic yards of sod were also removed. Another home required heating and ventilating for several days to reduce mercury vapors to acceptable levels.
EPA Prepares Nearly 1,000 Containers of Chemicals for Disposal in Rural Community in Oregon
In February 2015, EPA and the Oregon Department of Environmental Quality (ODEQ) performed an inspection of a rural residence near Dexter, OR. Approximately 1,000 containers of various sizes were strewn across the property, and EPA was in charge of characterizing and disposing the containers.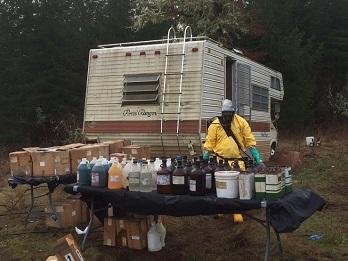 Most of the containers were sitting on bare ground, and a majority of them were damaged and leaking or ruptured. The contents of many of the containers were unknown, and some were labeled to contain acids, corrosives, electrical-insulating fluid, flammable liquids, and various solvents. EPA personnel dressed in chemical protective suits to conduct an entry into a recreational vehicle that was used to store more than 250 containers of chemicals.
Over the course of two weeks the contents of all of these containers were characterized, segregated, packaged, transported, and disposed off site. Additionally, the top layer of contaminated soils was removed from the surface, and prepared for disposal. With support of EPA contractors, more than 888 containers were removed from the site, and 16,000, small glass ampules of chromic acid were consolidated into 55-gallon drums for disposal.
---
Past Activities
---
Emergency Management on the EPA Blog
EPA Makes a Big Bang in Baton Rouge
CAMEO: A Starring Role in Chemical Emergencies
No Big Red Fire Trucks But We Still Fight Fires
EPA Responds Quickly to Protect Tribal Community
EPA Stands Ready to Protect the Public from Everyday Emergencies
EPA's Mobile Lab Helps Clean Up Vermont Community
---
Regional Newsletters
Region 8 Preparedness Unit Newsletter (PARatus)