Criminal Enforcement: Special Agents

EPA's Criminal Investigation Division (EPA CID) Special Agents are fully authorized law enforcement officers empowered to enforce our nation's environmental laws as well as any other federal law in accordance with the guidelines established by the Attorney General of the United States (18 U.S.C. 3063).
EPA's Criminal Enforcement Program agents are highly trained men and women dedicated to the enforcement of federal laws protecting our environment; specifically, our air, water, and land resources. EPA CID Special Agents work within a structure of sophisticated environmental science and technology. EPA's CID Special Agents bring with them diverse backgrounds and a variety of work experience. An EPA CID Special Agent is a career position in the federal government with stringent qualification requirements.
What are the qualifications of EPA CID Special Agents?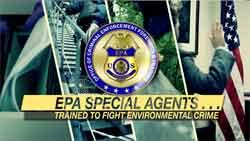 Video - EPA Special Agents: Trained to Fight Environmental CrimeApplicants for the position of EPA CID Special Agent must be a United States citizen, between the ages of 21 and 37 years old, and in excellent physical condition. EPA CID Special Agents receive eight weeks of basic federal law enforcement and Criminal Investigator training at the Federal Law Enforcement Training Center located in Glynco, Georgia. In addition to the basic law enforcement training, EPA CID Special Agents receive an additional eight weeks of training in conducting investigations of the criminal provisions of our federal environmental laws. Our Special Agents receive periodic in-service training, as well as advanced training in various investigative techniques.
Do you have what it takes?
Visit Office of Personnel Management's (OPM) web site for information on position qualifications, medical and testing requirements:
For information about employment opportunities with the Criminal Investigation Division, visit the EPA Careers web site. All open positions at EPA are announced on this site. If there are no positions listed, then there are no openings at this time.