Criminal Investigations - Violation Types and Examples
Common Violations 
Typical violations which result in investigations may involve, but are not limited to:
Illegal disposal of hazardous waste
Export of hazardous waste without the permission of the receiving country
Illegal discharge of pollutants to a water of the United States
The removal and disposal of regulated asbestos containing materials in a manner inconsistent with the law and regulations
Illegal importation of certain restricted or regulated chemicals into the United States
Tampering with a drinking water supply
Mail fraud/Wire fraud
Conspiracy
Money laundering relating to environmental criminal activities
Typical Violation Scenarios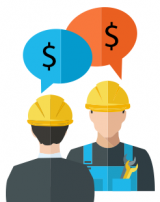 Clean Air Act Scenario: The owner of an apartment complex solicits bids to remove 14,000 square feet of old ceiling tiles from the building. Three bidders inspect the building, determine that the tiles contain dangerous asbestos fibers, and bid with understanding that, in doing the removal, they would be required to follow the work practice standards that apply to asbestos removal. The fourth bidder proposes to save the owner money by removing the tiles without following the work practice standards. The owner hires the fourth bidder on this basis and, so, the work is done without following the work practice standards. The owner is guilty of a criminal violation of the Clean Air Act.
Clean Water Act Scenario: A plant manager at a metal finishing company directs employees to bypass the facility's wastewater treatment unit in order to avoid having to purchase the chemicals that are needed to run the wastewater treatment unit. In so doing, the company sends untreated wastewater directly to the sewer system in violation of the permit issued by the municipal sewer authority. The plant manager is guilty of a criminal violation of the Clean Water Act.
Resource Conservation and Recovery Act (RCRA) Scenario: In order to avoid the cost of paying for proper treatment of its hazardous waste, the owner of a manufacturer of cleaning solvents places several dozen 5-gallon buckets of highly-flammable and caustic waste into its dumpster for disposal at a local, municipal landfill that is not authorized to receive hazardous waste. The owner of the company is guilty of a criminal violation of RCRA.
Remember: Your Safety Comes First!
Do not put yourself in harm's way. Please review these safety tips and do not try and investigate on your own - report what you see at www.epa.gov/tips.
If you are not sure that an area is safe, stay away
Do not enter confined spaces or low-lying areas
Do not lean over open waste containers, or kick, rock or puncture waste containers
If trained to enter, wear appropriate protective gear
Do not take samples unless trained
Keep others away from the scene until assistance arrives
Be sure to keep children and pets away
Do not track toxic material into your car