Finding Potentially Responsible Parties (PRP)
On this page:
Finding Potentially Responsible Parties
Early in the cleanup process, EPA conducts a search to find all of the potentially responsible parties (PRPs). EPA looks for evidence to determine liability by matching wastes found at the site with parties that may have contributed wastes to the site. EPA uses many approaches to do this research, including:
Reviewing documents,
Site investigation and sampling,
Interviews,
Using "information request letters" to gather information,
Title searches, and
Research on the internet and at libraries, courthouses, and state offices.
In addition to identifying PRPs, EPA tries to determine early on:
The nature of a party's involvement (e.g., owner, generator),
A party's potential defenses (e.g., 3rd party defense),
Any applicable exemptions or exclusions,
The amount of waste a party contributed, and
Whether the party can pay only very little or nothing at all toward the cleanup.
Under EPA's Enforcement First for Remedial Actions at Superfund Sites ("Enforcement First" policy), EPA will usually ask PRPs to conduct the investigation and to perform the cleanup before using Superfund money.
Issuing information request letters is a basic component of nearly all PRP searches. The letters are used for information gathering purposes and do not designate an entity as a potentially responsible party.
PRP Search Manual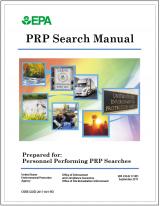 EPA's "PRP Search Manual" (2017) provides guidance on how to search for PRPs that may be liable for cleanup at a Superfund site. The manual, divided into four chapters and appendices, gives the user historical background on Superfund and its enforcement program and describes the planning stages, baseline tasks and follow up tasks for conducting effective PRP searches.
the complete edition or individual chapters and appendices of the 2017 PRP Search Manual.
PRP Search Basic Training Video Collection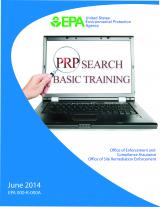 The eight-part video training is intended to help you conduct thorough and accurate PRP searches. The videos cover the major steps and considerations in performing PRP searches in relation to Superfund's cleanup response process. The videos, along with accompanying resource materials, will guide you through the process of gathering information, conducting interviews, compiling data, and contacting PRPs. Quizzes are provided for several of the training sessions to help you gauge what you have learned. Use the PRP Search Basic Training Handbook with the video training or print and use for future reference. The handbook contains content related to each of the video sessions, document examples discussed during the training, and reference materials.
Access the collection of videos and basic training handbook.
Learn More about finding PRPs: