Home Depot Settlement Information Sheet
(Washington, DC - December 17, 2020)  – The U.S. Environmental Protection Agency and the Department of Justice today announced a proposed nationwide settlement with Home Depot U.S.A. Inc. resolving alleged violations of the EPA's Lead Renovation, Repair and Painting (RRP) Rule at home renovations performed by Home Depot's contractors across the country.  The States of Utah, Massachusetts, and Rhode Island, which have EPA-authorized RRP programs, are joining the United States in this action.
The settlement, in a consent decree lodged with the District Court for the Northern District of Georgia, requires Home Depot to implement a comprehensive, corporate-wide program to ensure that the firms and contractors it hires to perform work are certified and trained to use lead-safe work practices to avoid spreading lead dust and paint chips during home renovation activities.  Home Depot will also pay a $20.75 million penalty, the highest civil penalty obtained to date for a settlement under the Toxic Substances Control Act.  Of the $20.75 million penalty, $750,000 will be paid to Utah, $732,000 to Massachusetts, and $50,000 to Rhode Island.
On this page:
Overview of Company
Home Depot U.S.A. Inc. is a subsidiary of The Home Depot, Inc., with offices in Atlanta, Georgia. At over 2,000 Home Depot stores located throughout the U.S. (including the Commonwealth of Puerto Rico and the territories of the U.S. Virgin Islands and Guam), customers purchase a home improvement product—like flooring, carpet, cabinets, countertops, or windows—and contract with Home Depot for installation. Home Depot has a network of local contractors that it hires to complete projects in thousands of homes every day.
Violations
EPA discovered the alleged violations through customer complaints about projects performed in Illinois, Maine, Michigan, Minnesota and Wisconsin which showed Home Depot frequently subcontracted work to uncertified firms, did not use lead-safe work practices, did not perform required post-renovation cleaning, did not provide the EPA-required lead-based paint pamphlets to occupants, and did not establish records of compliance.
EPA then conducted a comprehensive review of Home Depot's records from projects performed by the company's renovation contractors throughout the United States. The government alleged that Home Depot sent uncertified firms to perform projects required to be performed by certified and trained firms. In addition, Home Depot failed to establish, retain, or provide compliance documentation showing that specific contractors had been certified by EPA, had been properly trained, and had used lead-safe work practices in projects performed in homes.
Injunctive Relief
Under the settlement, Home Depot will implement a company-wide program to ensure that the firms and contractors it hires to perform work for its customers comply with the EPA's Lead Renovation, Repair and Painting Rule (RRP) Rule during renovations of any child-occupied facilities, such as day-care centers and pre-schools and any housing that was built before 1978. To do this, Home Depot has developed an electronic compliance system to verify that the contractors it hires are properly certified and, if not, removed from the hiring system. Home Depot also will require its contractors to use a detailed checklist to document compliance. The checklist will lead the contactors through the steps required for RRP Rule compliance. Home Depot will include penalty provisions in its contracts with contractors to ensure that they comply with RRP regulations. Home Depot will also conduct thousands of on-site inspections of work being performed by contractors to ensure they comply with lead-safe work practices.
Home Depot will add a link on its website to EPA's content on lead-safe work practices and use a company-wide system to actively track the RRP firm and renovator certifications of its contractors. In addition, Home Depot will take action to respond to situations where a contractor is not operating in compliance with the RRP Rule, investigate all reports of potential noncompliance, and ensure that any violations are corrected and reported to EPA.
Home Depot will provide important information in its stores, on its website, on YouTube, and in workshops, to its professional and do-it-yourself customers about the importance of using lead-safe work practices. The RRP Rule does not apply to do-it-yourself projects in your own home. However, the EPA recommends using the Rule's lead-safe work practices in your own home projects, so this important information will help families learn how to protect themselves, and their children, by safely performing home improvement projects.
Pollutant Impacts
Lead-based paint was banned in 1978 but still remains in many homes and apartments across the country. According to HUD's American Healthy Homes Survey, which was conducted from June 2005 through March 2006, an estimated 37.1 million homes – or 34.9 percent of all homes nationwide - have lead-based paint somewhere in the building. An estimated 34.4 million of these homes were built before 1978. The likelihood that a home has lead-based paint increases with the age of the property. The EPA estimates that lead-based paint is present in 24% of homes built between 1960-1977, 69% of homes built 1940-1959, and 87% of homes built before 1940.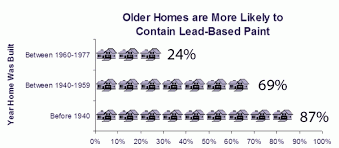 Health Effects and Environmental Benefits
Lead dust and paint chips can occur when lead paint deteriorates or is disrupted during home renovation and remodeling activities. Lead exposure can cause a range of health problems, from behavioral disorders and learning disabilities to seizures and death, putting young children at the greatest risk because their nervous systems are still developing. EPA enforces the RRP Rule and other lead rules to protect children and others who are vulnerable to exposure to lead dust that can cause lead poisoning. A blood lead test is the only way to determine if a child has a high lead level. Parents who think their child has been in contact with lead dust should contact their child's health care provider.
Renovation firms that are certified under EPA's RRP Rule are encouraged to display EPA's "Lead-Safe" logo on workers' uniforms, signs, websites and other material, as appropriate. Consumers can protect themselves by looking for the logo before hiring a renovation firm. Consumers can learn more about the RRP Rule and hiring a certified firm by calling the National Lead Information Center at 1-(800)-424-LEAD or visiting www.epa.gov/lead.
Concerned About a Renovation in Your Home?
Home Depot customers with questions or complaints about the handling of lead paint during their Home Depot renovations should contact Home Depot at lead_paint@homedepot.com. Any member of the public concerned about handling lead-based paint in their home can contact the National Lead Information Center at 1 (800) 424-LEAD. Anyone who suspects a violation of the EPA's Lead RRP Rule by any company doing work in their home can report that violation through the EPA's Tip and Complaint webpage at https://echo.epa.gov/report-environmental-violations.
Civil Penalty
Home Depot will pay a $20.75 million penalty. Of that amount, $750,000 will be paid as a penalty to the State of Utah, $732,000 will be paid as a penalty to Massachusetts, and $50,000 will be paid to the State of Rhode Island.
Comment
The proposed settlement, lodged in the U.S. District Court for the Northern District of Georgia, is subject to a 30-day public comment period and final court approval. Information on submitting comment is available at the Department of Justice website.
For more information, contact:
Amos Presler
Chemical Risk and Reporting Enforcement Branch
U.S. EPA, OECA, Office of Civil Enforcement
(202) 564-1076
presler.amos@epa.gov