National Compliance Initiative: Creating Cleaner Air for Communities by Reducing Excess Emissions of Harmful Pollutants
Problem
People living in non-attainment areas or in communities that are near sources of hazardous air pollutants (HAPs) may face significant risks to their health and environment. HAPs are pollutants that are known or suspected to cause cancer or other serious health effects. In some instances, small amounts of these chemicals inhaled or ingested can cause serious illness. There are over 180 chemicals that the EPA has identified as HAPs, including mercury, benzene, dioxin, and lead compounds. Furthermore, significant sources of volatile organic compounds (VOCs) contribute to non-attainment with the National Ambient Air Quality Standards (NAAQS) or may adversely affect the attainment status of an area. VOCs are a key component in the formation of ground-level ozone (a constituent of photochemical smog) and secondary organic aerosols, both of which may impact ecosystems and can cause adverse health effects like respiratory ailments. Many individual VOCs also are known to be harmful to human health.
Goal
This NCI addresses the adverse health and environmental effects from exceedances of the NAAQS to which sources of VOCs contribute, as well as VOC- and HAP-related health impacts on communities.
Results
During FY 2020, the initial year for implementation of this Initiative, the agency made significant progress on this NCI. The following summary illustrates the Agency's efforts in FY 2020 to improve air quality and reduce excess emissions of VOCs and HAPs:
Pollutant Reduction

The EPA has addressed serious violations through enforcement actions, achieving measurable pollutant reductions and improving air quality to provide cleaner air for communities.  In FY 2020, enforcement actions have resulted in a reduction of almost 27 million pounds of volatile organic compounds and over 2.8 million pounds of hazardous air pollutants.
Advanced, innovative equipment and techniques

Employed infrared cameras using optical gas imaging and the National Enforcement Investigations Center's geospatial measurement of air pollution (GMAP) vehicle during inspections. This technology allows for real time measurement of VOCs and HAPs, identifying noncompliance resulting from fugitive emissions and equipment leaks.

Enhanced use of compliance assurance tools

Approaches such as remotely observing stack testing at facilities allowed for effective noncompliance determinations while being performed off-site. The EPA used these tools to monitor for compliance even as the COVID-19 public health emergency limited on-site inspections.

Continued Strong Partnerships

Through partnerships with state and tribal authorities, conducted multiple joint inspections and joint enforcement actions.

Issued Enforcement Alert

Provided information helpful to both industry and regulators for identifying and addressing observed excess air emissions from natural gas gathering operations.

Forged a partnership with the Small Business Environmental Assistance Program

Supported the small business community in their environmental goals.

Compliance Assistance Portal

Enhanced the Environmental Compliance Information for Energy Extraction portal providing compliance assistance for owners and operators of crude oil and natural gas extraction operations.
FY 2020 Number of CCAC Facilities with EPA Inspections / Off-site Compliance Monitoring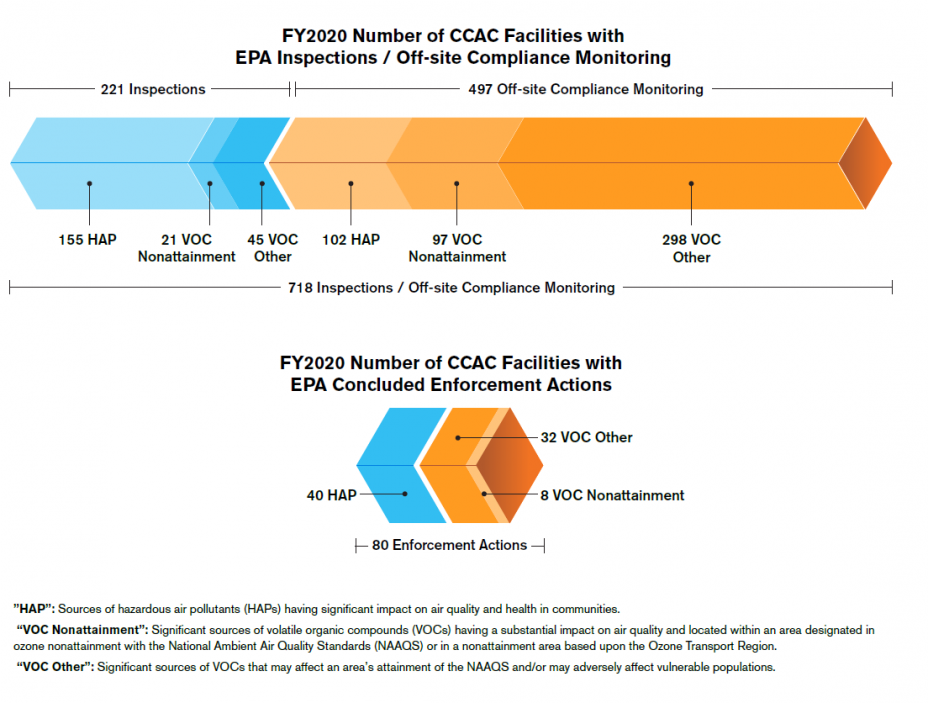 Cases
Examples of recently concluded enforcement actions include the following: