National Compliance Initiative: Reducing Hazardous Air Toxic Emissions at Hazardous Waste Facilities
Problem
The Resource Conservation and Recovery Act (RCRA) requires effective control and monitoring of organic air emissions from treatment, storage, and disposal facilities and large quantity generators. Widespread air emission violations are associated with the improper management of hazardous waste. RCRA requires effective monitoring to identify and repair leaks from hazardous waste storage tanks, pipes, valves, and other equipment. Releases from hazardous waste facilities can include releases of constituents known or suspected to cause cancer or birth defects. In addition, leaks from these facilities can contribute to non-attainment with the NAAQS. EPA inspections have revealed significant noncompliance and an ongoing need for additional training for both industry and regulators.
Goal
The EPA, in partnership with authorized states, is focusing on identifying and addressing violations of leak detection and repair requirements for related hazardous waste treatment equipment. This initiative ensures a nationally consistent approach of returning facilities to compliance to reduce health and environmental exposure and ensure a level playing field for regulated facilities.
Results
During FY 2020, the agency made significant progress on this NCI. The following are illustrative of the agency's efforts in FY 2020 to address toxic air emissions at hazardous waste facilities:
Improved capacity in regions and states
OECA worked with regions and states to conduct on-site inspections as well as advancing efforts to conduct off-site compliance evaluations.
Identified and repaired air emissions of hazardous wastes
Over 230 hazardous waste releases have been identified and repaired in a timely manner as a result of RCRA Air NCI inspections. This figure does not include a potentially large number of releases identified and subsequently corrected in response to state inspections.
Improved inspections and targeting
Developed web-based inspector trainings for EPA and state inspectors, new targeting tools, enhancements to existing targeting efforts, and improvements to data quality and reporting.
Enhanced use of compliance assurance tools
Developed strategies for effective off-site compliance monitoring activities in order to remotely evaluate facilities potentially subject to RCRA air regulations.
Annual Number of EPA On-Site and Off-site Compliance Evaluations for the RCRA Air NCI
Annual Number of Facilities Addressed through the RCRA Air NCI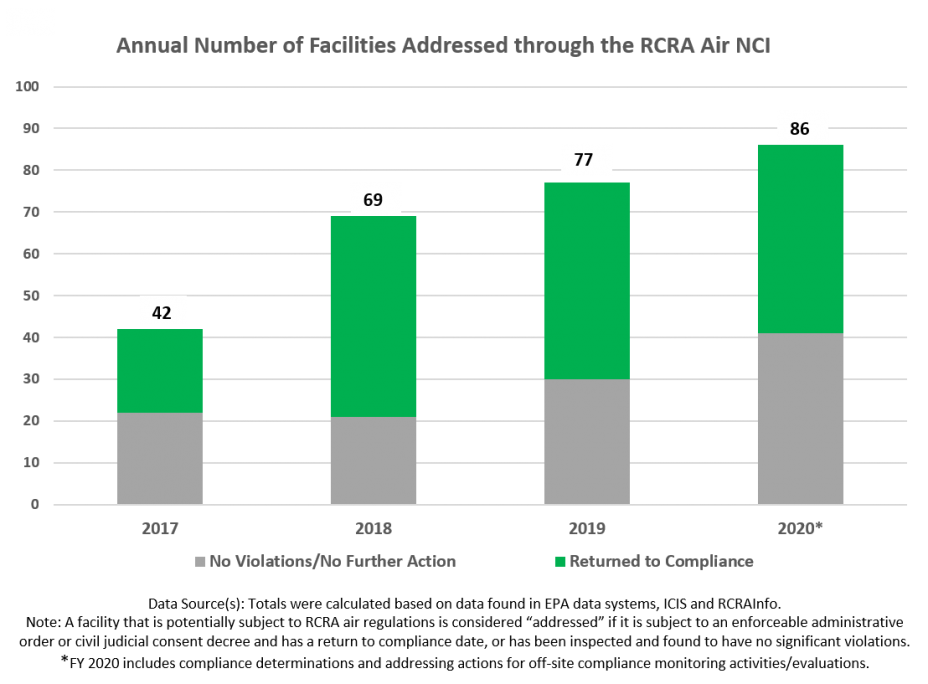 Cases
Through this NCI, EPA has addressed serious violations through enforcement actions at hazardous waste facilities. Examples of recently concluded enforcement actions that came as a result of compliance monitoring activities under this NCI include the following: