National Compliance Initiative: Reducing Significant Non-Compliance with National Pollutant Discharge Elimination System (NPDES) Permits
Problem
Compliance with NPDES permits is critical to protecting our nation's waters. There are approximately 46,000 major and minor individually NPDES-permitted facilities in the country. Over 29 percent of these facilities were in significant noncompliance (SNC) with their permits in FY 2018. Violations range from significant exceedances of effluent limits, which can cause harm to human health and the environment, to failure to submit reports, which can mask serious deficiencies.
Goal
The objective of this initiative is to improve surface water quality and reduce potential impacts on drinking water supplies by assuring that all NPDES permittees are complying with their permits.  This NCI aims to reduce by half the FY 2018 national one-quarter SNC baseline rate of 20.3 percent by the end of FY 2022, while assuring that the worst SNC violators are timely and appropriately addressed.
This effort furthers the EPA's FY 2018–FY 2022 Strategic Plan, which calls for measurable efforts to increase the environmental law compliance rate.
Results
During FY 2020, the initial year for implementation of this Initiative, the agency made significant progress on reducing significant violations of NPDES permits. The following are illustrative of the agency's efforts in FY 2020 to improve water quality through this NCI:
Reduced the rate of significant noncompliance: Together with authorized states, reduced the SNC rate of from an FY 2018 baseline of 20.3% to 16.4% at the end of FY 2020.
Coordinated a national symposium on reducing SNC: At the symposium, attended by representatives from over 30 state government environmental agencies and EPA offices across the country, attendees and guest speakers shared best practices and strategies for improving compliance with NPDES permits and reducing SNC.
Developed compliance assistance resources: Held a series of 12 technical assistance webinars focused primarily on common problems at small, public wastewater facilities in SNC. Issued a compliance advisory designed to help NPDES permittees achieve compliance.
Established a "Circuit Rider" technical assistance program for small systems: In FY 2020, this program provided technical, on-site assistance to approximately 124 drinking water and/or wastewater systems in ten states and Puerto Rico. By the end of calendar year 2020, there will be circuits initiated in every EPA region.
Developed tools for early detection of SNC: These tools assist the EPA and states in identifying SNC-level violations much earlier than has been the practice. This early notice allows the EPA and states to intervene earlier with violators and return them to compliance, sometimes even before they become official SNCs.
Improved data transfer processes: Worked closely with several states to improve transfer of data from state systems to EPA's system.
Percent of Individual NPDES Permittees in SNC during the Fiscal Year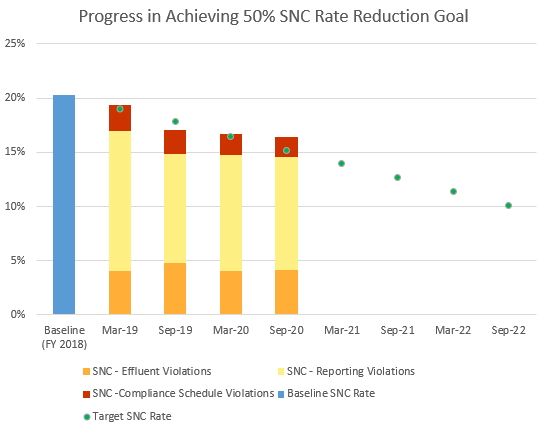 Number of Individual NPDES Permits with Complete Data for Determining SNC Status
The EPA has determined that some individual NPDES permits have insufficient permit information and compliance tracking data in EPA's database to allow the EPA to evaluate the permittee's compliance status, including SNC. The EPA excludes such permits from the SNC rate calculation to improve the accuracy of the SNC rate. The SNC NCI effort includes goals for addressing this problem and increasing the number of individual permits included in the SNC rate calculation. The chart below illustrates progress on this work.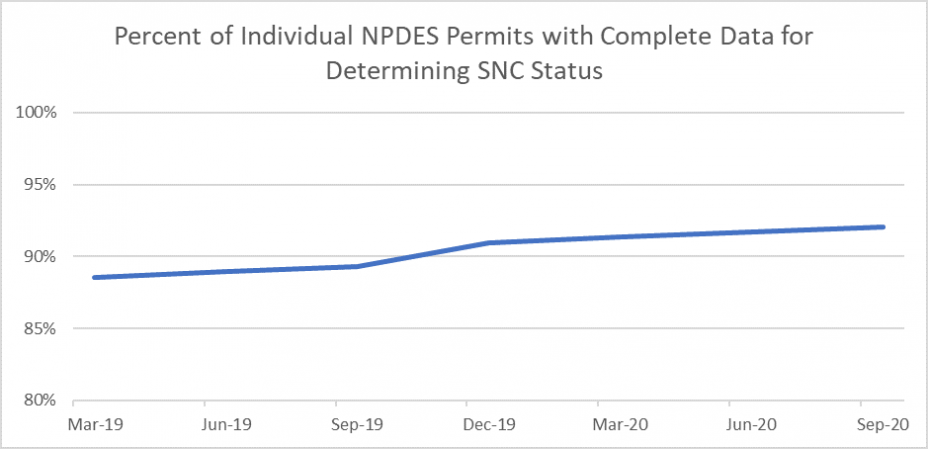 Cases
EPA has addressed serious violations through enforcement actions. Examples of recently concluded enforcement actions for NPDES permit violations include the following: