National Compliance Initiative: Stopping Aftermarket Defeat Devices for Vehicles and Engines
Problem
By making aftermarket defeat devices a national priority, EPA is addressing a significant contributor to air pollution. According to a study by EPA's Air Enforcement Division of the impacts of known sales of defeat devices for certain diesel trucks after 2009 and before 2020 , those devices would result in more than 570,000 tons of excess NOx and 5,000 tons of particulate matter (PM) over the lifetime of the trucks.
EPA , through its direct implementation authority, can play a critical role in addressing these important pollutant sources. Title II of the Clean Air Act (CAA) authorizes the EPA to set standards applicable to emissions from a variety of vehicles and engines. Required emission controls often include filters and catalysts installed in the vehicle's or engine's exhaust system, as well as calibrations that manage fueling strategy and other operations in the engine itself. The CAA prohibits tampering with emissions controls, as well as manufacturing, selling, and installing aftermarket devices intended to defeat those controls. The EPA has found numerous companies and individuals that have manufactured and sold both hardware and software specifically designed to defeat required emissions controls on vehicles and engines used on public roads as well as on nonroad vehicles and engines. Illegally-modified vehicles and engines contribute substantial excess pollution that harms public health and impedes efforts by the EPA, tribes, states, and local agencies to plan for and attain air quality standards.
Goal
This NCI focuses on stopping the manufacture, sale, and installation of defeat devices on vehicles and engines used on public roads as well as on nonroad vehicles and engines.
Results
During FY 2020, the initial year for implementation of this initiative, the agency made significant progress on this NCI. EPA prevented 18.2 million pounds of emissions from mobile air sources. The following are illustrative of the agency's efforts in FY 2020 to address the manufacture, sale and installation of defeat devices:
Resolved 31 civil enforcement cases
The greatest number of resolutions for tampering and aftermarket defeat devices for any one year in the agency's history.
Forged successful partnerships
Provided tampering and aftermarket defeat device inspector trainings attended by 26 states. Supported states performing inspections and taking enforcement actions for violations of state laws concerning tampering. States efforts to curtail the demand for aftermarket defeat devices complement the EPA's efforts, which are generally focused on the manufacturing and supply of aftermarket defeat devices.
Provided compliance assistance
Since Fall 2019, gave more than 22 presentations to stakeholder groups, including states and trade associations, on tampering and aftermarket defeat devices.  
EPA Estimated Emissions Increase Due to Full Delete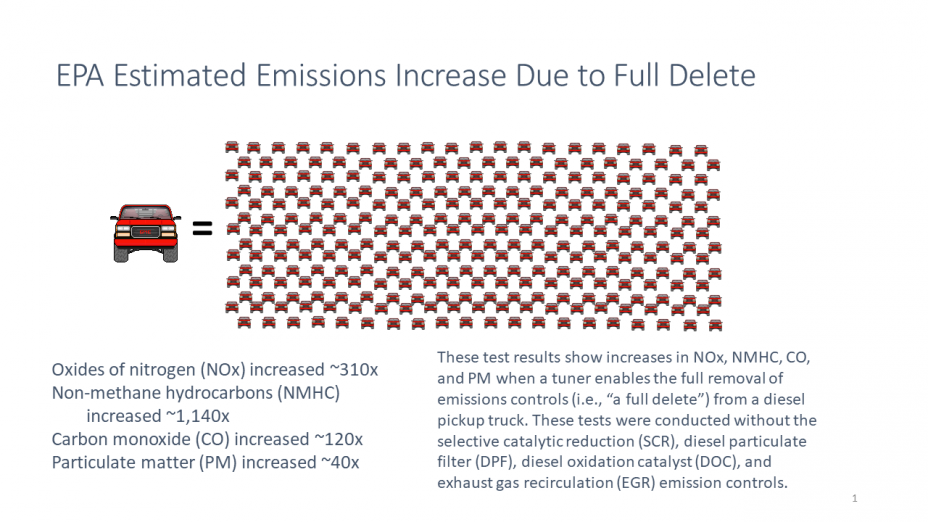 Cases
EPA has addressed serious violations through enforcement actions achieving measurable pollutant reductions and improving air quality.  In FY 2020, EPA resolved 31 civil enforcement cases for tampering and aftermarket defeat devices—the most for any one year in the agency's history.  Examples of recently concluded enforcement actions against entities that manufactured and/or sold after market hardware or software designed to defeat pollution controls include the following: