Superfund Site Cleanup Work through Enforcement Agreements and Orders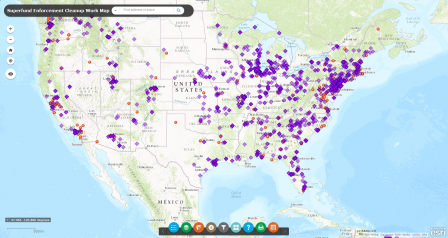 EPA's Superfund Enforcement Cleanup Work map highlights current cleanup work at privately- and federally-owned Superfund sites across the country. These cleanups are the result of the Agency's work with responsible parties and federal entities to negotiate cleanup settlement agreements or issue orders to get the work done. The data in the map is current through the past fiscal year. A user guide,  disclaimers, and data facts are available on the Information about the Superfund Enforcement Cleanup Work map webpage.
Feedback: To provide feedback, submit questions, or report corrections to data errors or mapping problems, the "contact us" links on this page.
Disclaimer: EPA is providing the information contained on this map for information purposes only. Only sites, facilities, and properties for which EPA collects information under CERCLA are on the map. This map does not include data for state, local, or tribal funded cleanups.
More information about the Superfund enforcement process.
Information on the Superfund cleanup process is available on the Agency's Superfund website. Information about the cleanup process on federal lands is available on the Agency's CERCLA and Federal Facilities webpage.