The EJ IWG in Action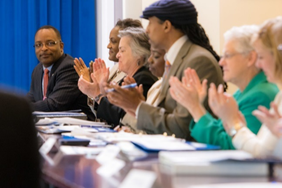 In May 2015, EJ IWG Senior Leadership met at the White House Executive Building to launch a transformative approach to making a visible difference in communities. Led by EPA, the federal family strengthened a cohesive and comprehensive federal approach to improve the health and sustainability of communities.
To continue building the federal environmental justice infrastructure, the EJ IWG will focus on the importance of environmental justice training, connecting with communities, and better aligning federal investments.
Read more about new initiatives: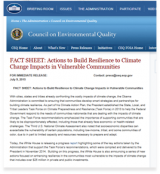 Educate, Motivate, Innovate Climate Justice Initiative. Released in June 2015 by the White House, Office of the Press Secretary, the EJ IWG was highlighted in the Obama Administration Announcement of Actions to Protect Communities from the Health Impacts of Climate Change at the White House Summit.
The EJ IWG announced the creation of a new subcommittee on climate change impacts. The subcommittee focuses attention on the needs of vulnerable populations, particularly those related to resilience and adaptation. The subcommittee supports federal conversations and actions on climate change which are informed by and responsive to the needs of communities with environmental justice concerns. The committee will work to ensure that the knowledge, data, tools, and other resources currently being generated across the Federal government are reaching those populations.
As an initial step, the workgroup is launching Phase 1 of the EJ IWG EMI Climate Justice Initiative. The EMI Climate Justice Initiative will use a variety of tools to focus on incorporating equity into climate adaptation planning and implementation. The initiative will also focus on the next generation of climate justice leaders and expand partnerships with Minority Serving Institutions, including outreach to Historically Black Colleges and Universities and Tribal Colleges and Universities.
More Stories about the EJ IWG in Action!