Environmental Justice Program Funded Projects
View More Than One Project per Map Pop-up
When clicking on a group of project points, it is easy to scroll through the project information within the same pop-up. Click on the arrow symbol in the top part of the pop-up to the right of the "1 of " heading (highlighted by a red oval in the below screenshot):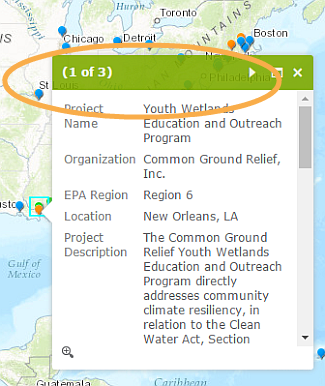 The primary purpose of EPA's environmental justice grant programs are to support communities as they develop and implement solutions that significantly address environmental and/or public health concerns at the local level.
This map indicates places where EPA is supporting environmental justice projects. Locations are displayed in layers representing:
EPA's EJ Collaborative Problem-Solving Cooperative Agreement Program provides funding for eligible applicants for projects that address local environmental and public health issues within an affected community. The CPS Program assists recipients in building collaborative partnerships to help them understand and address environmental and public health concerns in their communities.
EPA's EJ Small Grants Program supports communities working on solutions to local environmental and public health issues. The program is designed to help communities understand and address exposure to multiple environmental harms and risks.
Learn more about grants and resources provided through the EPA's Office of Environmental Justice.