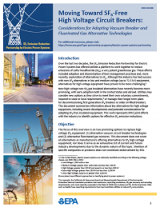 This document, "Moving Toward SF6-Free High Voltage Circuit Breakers: Considerations for Adopting Vacuum Breaker and Fluorinated Gas Alternative Technologies," summarizes information about key alternatives for high voltage equipment, including recent developments and potential considerations for adopting SF6-free insulated equipment. This work represents EPA's joint efforts with the industry to identify options for effective SF6 emission reductions.
The document provides an overview of two promising options to replace high voltage SF6 equipment:
Vacuum circuit breaker technologies
Fluorinated gas mixtures
You may need a PDF reader to view some of the files on this page. See EPA's About PDF page to learn more.