2014 Federal Green Challenge National Award Winners

Federal Agencies are recognized through the Federal Green Challenge for outstanding efforts that go beyond regulatory compliance and strive for annual improvements of five percent or more in selected target areas.
Top ranking applicants receive the 2014 national data driven award in each of the target areas of Waste, Electronics, Purchasing, Water, Energy and Transportation.
Overall Achievement
Highest Overall Level of Performance
The National Benefits Center, U.S. Citizenship and Immigration Services, Department of Homeland Security (DHS)
Lee's Summit, MO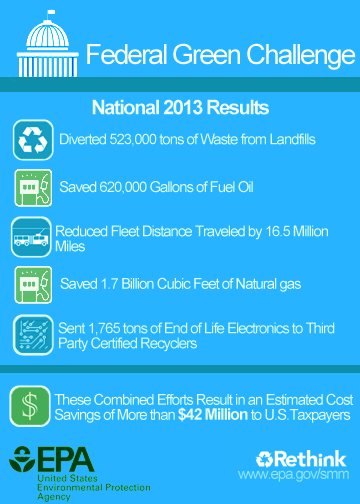 In fiscal year 2013, Federal Green Challenge national participants collectively made environmental improvements as indicated in this graphic.The National Benefits Center (NBC) Lee's Summit facility started with nearly zero identifiable waste recycling and reuse activities in 2010. Within two years, they were sharing thousands of pounds of cardstock for re-use in the local community and had greatly increased their recycling rate using targeted efforts. In 2010, NBC management initiated a five member green team, the NBC Green Zone, and created an associated internal website. The building management provided a co-mingled recycling Dumpster, "One Earth One Chance." NBC's janitorial services did not collect recyclables in 2010. The Green Zone solution was to recruit over 120 co-workers who would voluntarily use an "Adopt a Bin" program. These volunteers collected recyclable materials at their cubicles and then transferred the contents to the One Earth One Chance Dumpster on a daily or weekly basis. The collection effort quickly surpassed the number of bins available. By 2013, over 150 volunteers were participating in waste diversion.
The Green Zone also recognized that their cardstock paper was a re-usable resource that was going to waste. NBC receives a large volume of cardstock paper inserts to prevent official notices from bending. The Green Zone found that many community organizations need cardstock. They donate this cardstock to preschools, day cares, and churches who in turn reuse the cardstock for crafts and other creative functions.
Improvement by Target Area - Highest Increased Percentage Over Previous Year
Waste
Naval Base Coronado, U.S. Navy, Department of Defense (DOD), San Diego, CA
Naval Base Coronado increased their organics composting by 1071% between 2012 and 2013. They completed a large tree trimming and removal project, performed by Naval Facilities Engineering Command, in Spring 2013. Over-grown trees were removed from the airbase flight line, taxi ways and weapons area at Naval Air Station North Island. Instead of going to waste in a landfill, the Naval Base had the trees and related debris composted.
Electronics
Oak Ridge National Laboratory, Department of Energy (DOE), Oak Ridge, TN
Oak Ridge National Laboratory's (ORNL) electronic stewardship efforts address all aspects of sustainability including efforts associated with its Federal Green Challenge goals. In 2013, ORNL set an FGC goal to increase its use of a responsible recycling practices (r2) certified recycler by 5 percent. ORNL exceeded that electronics recycling goal by an improvement of over 400 percent in 2013. Additionally, ORNL continues to move forward with implementation of desktop, application, and server virtualization technologies, setting a 2014 FGC goal to increase the use of "zero clients" by 5 percent. A zero client, which is used as a replacement for personal computers, is a more secure version of a thin client and is more energy efficient than a computer in sleep mode. The IT enterprise infrastructure continues to move toward virtual servers as systems are refreshed, giving ORNL confidence that it can meet its 2014 zero client goal.
Purchasing
Brookhaven National Laboratory, Office of Science, Department of Energy (DOE), Upton, NY
Brookhaven National Laboratory (BNL) continues to focus on improving its buying system to increase user choice and ease of purchasing sustainable office products. For example, remanufactured black ink toner cartridges and highest percent of recycled content office products should be the recommended choices presented to users. BNL's custodial staff converted to the use of Green Seal products and LEED compliant cleaning equipment (carpet extractors, vacuums, high speed buffers, etc.) in more than 90 percent of their cleaning products. BNL has a mature Integrated Pest Management program that has been audited and approved by an outside contractor. Another significant effort is BNL's Conference Services Group's Green Meeting and Events Policy, which is provided to each event's coordinator and helped them achieve a 28 percent improvement in green meetings and events in 2013.
Energy
Marine Corps Air Station Miramar, U.S. Marine Corps, Department of Defense (DOD), San Diego, CA
In 2013, Marine Corps Air Station (MCAS) Miramar increased its on-site renewable energy by 250 percent in comparison to 2012. The base generates much of its energy via on-site landfill methane gas, which produces electricity for the air station. Additionally, Miramar generates energy from 10 solar panel systems located around the air station and approximately 50 percent of the air station's electricity is renewable. With this level of onsite renewable energy, MCAS is developing a microgrid project that will move the facility towards energy independence in less than five years, an important strategy for energy resiliency.
Water
Nez Perce National Historical Park, National Park Service, Department of the Interior (DOI), Spalding, ID
The National Park Service is committed to conservation of its natural resources. By mission definition, the National Park Service provides an environment where groups and individuals can learn about and appreciate the environment. During 2013, the Nez Perce National Historical Park in Spaulding, Idaho, took action to reduce their water consumption while successfully accomplishing their core mission. The two sites in the park (approximately six acres) which had meticulously maintained grounds including weekly mowing, daily watering from June through August, and annual seeding with Kentucky Blue Grass were selected for a change. In 2013, the park reduced watering on about three acres by 75 percent and on two acres by 100 percent. Leaving one acre as a watered green buffer around the visitor's center for wildland fire protection and various activities. The end goals for these areas are: to restore native vegetation, and reduce watering by 100 percent on five acres.
Transportation
Bonneville Power Administration, Department of Energy (DOE), Portland, OR
Bonneville Power Administration (BPA) in Portland, Oregon is focused on reducing its environmental impact. In 2013, BPA had the highest reduction in transportation activities across the nation among Federal Green Challenge award applicants. Their efforts included a focus and accountability of all electric/alternative fuel vehicles, reductions in gasoline and diesel consumption, significant reduction in commercial airline miles (50 percent) and rental car miles (60 percent), and an education and awareness campaign highlighting commuting alternatives and telework options. BPA has put several programs in place to track and monitor their transportation activities, endeavoring to sustain and grow these reductions for even greater results in the years to come.