2018 Federal Green Challenge Award Winners in the Pacific Southwest Region
Recognition is an important part of the Federal Green Challenge (FGC). An award was given in the category of education and outreach in the Pacific Southwest region.
In Region 9, which serves Arizona, California, Hawaii, Nevada, Pacific Islands, and 149 Tribes, the 2018 regional award winners are the National Park Service's Golden Gate National Recreation Area, the Department of Agriculture's Forest Service Region 5, and the Presidio Trust. The award winners shared details about their diversion activities, and about their awards with EPA. Below are the stories they tell behind their accomplishments.
Energy
National Park Service, Golden Gate National Recreation Area, San Francisco, Calif.

In 2017, the Golden Gate National Recreation Area (GGNRA) made substantial achievements to reduce its carbon footprint, with the goal of becoming a carbon-neutral park. The greatest accomplishment was purchasing 100 percent renewable energy for all park buildings. This was achieved through a combination of on-site renewables, participation in Community Choice Programs, and the purchase of Renewable Energy Certificates (RECs).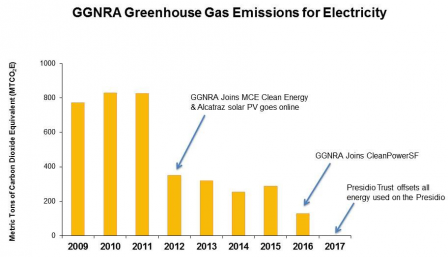 Click image to enlarge.GGNRA installed solar photovoltaics (PV) at their Fort Mason Headquarters building, as well as on Alcatraz Island. The solar PV on Alcatraz provides up to half of the annual energy usage on the island. In addition, GGNRA purchases 100 percent renewable electricity for all park buildings through the MCE Clean EnergyExit"Deep Green" program and the CleanPowerSFExit"Super Green" program. In 2017, electrical use in the final few buildings on the Presidio of San Francisco was offset through the purchase of Renewable Energy Certificates by partner agency The Presidio Trust.
Innovation
Department of Agriculture, Forest Service Region 5, Vallejo, Calif.

In 2017, the Forest Service Region 5 Sustainability and Energy Team, covering California, completed the Southern California Energy Savings Performance Contract (ESPC) ENABLE Project. The project established a streamlined procurement process allowing the aggregation of small projects across multiple federal facilities to install energy conservation measures and renewable energy systems more efficiently. This innovative project is a great model for federal facilities with multiple small to mid-size locations.
The project will reduce energy use by 80 percent across the project sites to save about 4,893 million BTU of energy and $225,000 in energy costs annually. The project took tremendous coordination because it covered energy upgrades at nine sites with 63 facilities at the Los Padres and San Bernardino National Forests in Southern California. The energy upgrades included:
Lighting upgrades
Heating, Ventilation, and Air Conditioning (HVAC) controls
One-for-one HVAC replacements, and
Small-scale solar photovoltaic (PV) system installations.
Specific work done by the Forest Service included:
Net Energy Metering Aggregation: The Forest Service negotiated with one of the utilities involved in the project to allow solar energy generated at one site to cover off-site facility utility costs. This enabled the ground-mounted system at Lytle Creek Ranger Station in the San Bernardino National Forest to be sized to produce excess energy to offset demand from 26 additional off-site Forest Service electricity accounts for work centers, fire stations, campgrounds, picnic sites, and lookout towers.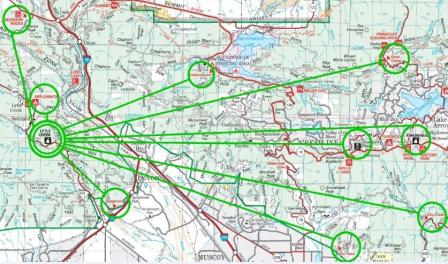 Click image to enlarge.The map to the right shows facilities covered under the Forest Service's Southern California Energy Savings Performance Contract (ESPC) ENABLE Project. The Lytle Creek site solar PV system, indicated with a double circle, produced excess energy to cover energy demand at other Forest Service locations indicated with single circles.
Partnerships: As a member of the Net Zero Network, the San Bernardino National Forest Supervisor's Office obtained funding from the Forest Service Washington Office to upgrade their HVAC system. The Forest Service team also worked closely with the Department of Energy's Federal Energy Management Program.
Line Officer Training: Before initiating this project, the project program managers traveled to all of the proposed sites and provided ESPC ENABLE "101" briefings for all local line officers. This communication increased project support and awareness of innovative energy efficiency and renewable energy project opportunities.
The ESPC ENABLE Project alone will help the Forest Service in Region 5 achieve and go beyond its Federal Green Challenge 5 percent Energy Target Area reduction goal in 2018.
Leadership
Presidio Trust, San Francisco, Calif.

Throughout its participation in the Federal Green Challenge (since 2014), the Presidio Trust has demonstrated outstanding federal environmental leadership by developing and implementing a comprehensive waste reduction strategy.
In 2016, staff identified issues like refuse and recycling overflow, contamination of recyclables with trash, and low diversion rates. In 2017, it conducted waste audits and implemented waste reduction practices. It used a "priorities approach" by performing daily audits at 17 out of 36 on-site locations, with the most significant waste diversion challenges and collected data on:
contamination levels and types,
characterization of materials disposed, and
dumpster and recycling bin fullness.
A detailed waste characterization sort at one site found that proper sorting could increase diversion from 60 percent to 90 percent.
Based on the measurement data collected, the Presidio Trust made changes at 11 buildings, including downsizing containers or waste hauling services at four locations, increasing diversion from landfills at five locations, and correcting sizing or services for chronic bin overflow at five locations. The Trust also communicated with the public by installing customized recycling signage at the Rob Hill Campground.
All told, from 2016 to 2017, the Presidio Trust increased its reuse of materials by 47 percent, and grew its composting by 30 percent. The Trust's leadership provided building managers and stakeholders with actionable data, motivated tenants and staff to reduced waste, and engaged with the public to make effective recycling and composting easier.