2019 Federal Green Challenge Award Winners in the Pacific Southwest Region
Recognition is an important part of the Federal Green Challenge (FGC). Awards were given in the categories of innovation, water, electronics, leadership, purchasing and waste in the Pacific Southwest region.
In Region 9, which serves Arizona, California, Hawaii, Nevada, Pacific Islands, and 149 Tribes, the 2019 regional award winners are the Drug Enforcement Administration, Southwest Laboratory; the Drug Enforcement Administration, Western Laboratory; U.S. Postal Service – Pacific Area; and Army Reserve 9th Mission Support Command. The award winners shared details about their diversion activities, and about their awards with EPA. Below are the stories they tell behind their accomplishments.
Innovation, Water and Electronics
Drug Enforcement Administration, Southwest Laboratory, Vista, Calif.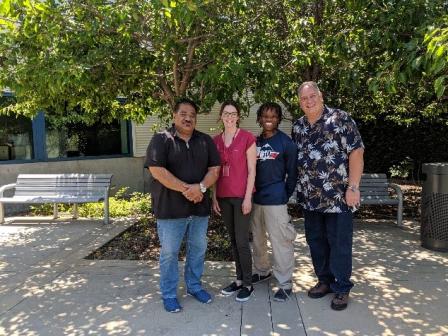 DEA Southwest Laboratory's Environmental Management System TeamThe Southwest Laboratory hired an innovative building engineer to work on-site full-time and constantly monitor the building's use of resources, resulting in a whopping 41 percent reduction in water use – going from 61,336 gallons in 2017 down to 35,904 gallons in 2018. In addition, the lab increased electronics donations by 18 percent and certified electronics recycling by 41 percent in 2018 with a total of 1,660 pounds donated and 2,340 pounds recycled.
The water conservation was achieved by repairing leaks and optimizing the facility's cooling and heating needs using fewer boilers and chillers. The lab has 31 sinks of which many leaky faucets were repaired, including some that ran constantly.  The building engineer disabled one of the boilers in use, except for very cold days, which also minimized water loss. In addition, the three chillers previously used to cool water for the building were reduced to just one chiller, or two on particularly hot days. Turning off the boilers and chillers also minimized equipment wear-and-tear by reducing use, resulting in energy savings.
Leadership
Drug Enforcement Administration, Western Laboratory, Pleasanton, Calif.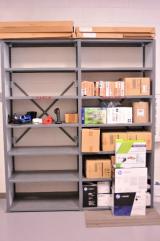 Electronics and toner cartridges collected for certified electronics recycling.
The Western Laboratory's Federal Green Challenge and Environmental Management System (EMS) leadership engages, motivates, and challenges employees to conserve resources and identify opportunities to get involved and play a significant role in environmental protection. Their motto is, "Leading by Example, the DEA Western Laboratory Way."
The EMS team and staff recycled more than 1,450 pounds of mixed building recyclables in 2018, exceeding the previous year's recycling efforts by 14 percent. Other examples of their comprehensive environmental leadership include:
Providing reusable name badges for visitors, and operating an administrative store room for supply reuse.
 Ensuring batteries and printer toner cartridges are sent to R2 certified recyclers.
Using public transportation and shuttles whenever possible.
Purchasing 100 percent postconsumer recycled paper and EPEAT-registered electronic equipment.
Working to reduce helium usage by exploring the configuration of our analytical methods to easily-produced hydrogen.
The Western Laboratory is a recognized environmental leader in the DEA. Since its inception in 2004, the laboratory has made great strides in reducing its environmental footprint, and much of its progress is a direct result of the agency's leadership approach to environmental issues. 
Purchasing
U.S. Postal Service – Pacific Area, San Diego, Calif.
Purchasing recycled products keeps valuable materials out of landfills and incinerators while creating U.S. jobs to recycle and manufacture recycled products like recycled copy paper. In 2018, the U.S. Postal Service – Pacific Area serving California, Hawaii and US Pacific Islands, purchased over 27.7 million pounds of paper with 49 percent average recycled paper content. This was a significant increase over the prior year's 35 percent average recycled content paper purchased.
Producing recycled paper also uses significantly less energy than producing paper from wood. Using EPA's Waste Reduction Model, USPS's 2018 recycled paper purchasing, compared to purchasing the same amount of paper without recycled content, used 65,700 Million BTU less energy – equivalent to conserving more than 545,438 gallons of gasoline or more than 700 households' annual energy use.
Waste
Army Reserve 9th Mission Support Command, Honolulu, Hawaii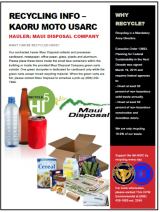 The Army Reserve 9th Mission Support Command (MSC) in Fort Shafter, Hawaii, which joined the Federal Green Challenge in 2017, strives to make sustainability a priority for its facilities across the Pacific region. Its focus has been on recycling its solid waste, which has enabled efficient sustainable materials management over the last two years. From fiscal year 2017 to 2018, the Command increased its recycling rate by almost 180 percent.  It owes its success to three initiatives.  First, it began working closely with the DPW Contracting Officer's Representative to better refine its waste hauling contract to include more recyclable items.  Second, it increased its outreach to personnel at the U.S. Army Reserve Center in Maui, which increased participation in the recycling program.  Lastly, it initiated a yearly recycling event for hard-to-recycle items, such as pallets and tires.  In other areas of sustainability, the Command reduced its on-site irrigation, resulting in a 30 percent decrease in potable water consumption.  The 9th MSC continues to serve as a green example for Army Reserve units throughout the nation.