2020 National Federal Green Challenge Award Winners
Recognition is a key element of the EPA's Sustainable Materials Management Program and the Federal Green Challenge (FGC). FGC awards this year are data driven awards, given in the five target areas of Waste, Electronics, Purchasing, Water and Transportation, are based on the greatest percentage of change over the previous year.
The 2020 FGC awards recognize the achievements of participating facilities in Fiscal Year (FY) 2019. In FY19, 260 federal facilities took steps to improve efficiency, save resources and reduce costs as part of the Challenge. Participants saved over $36 million across natural gas, fuel oil, paper purchasing, water and municipal solid waste (MSW) categories.
Across five of the main target areas, we are pleased to recognize the following FGC participants for their significant efforts in improving the sustainability of their facilities and for their leadership in reducing the environmental footprint of federal government activities, which saves taxpayer dollars and conserves energy.
Electronics
Drug Enforcement Administration, Western Laboratory, Pleasanton, California
Over the last year, the Drug Enforcement Administration (DEA) Western Laboratory increased electronics recycled through a 3rd party certified recycler or donated to colleges/universities by 92.9% (0.54 tons of electronics recycled/donated in FY 2019 compared to 0.28 tons in FY 2018). The Western Laboratory takes advantage of the electronics recycling services provided by UNICOR, an E-2 certified organization operated by the Bureau of Prisons, a Department of Justice component.
In addition to ensuring that all surplus/obsolete DEA electronics are properly disposed of in the most environmentally friendly manner, the Western Laboratory holds multiple personal electronics recycling drives for its employees. These drives usually take place twice a year, on Earth Day and America Recycles Day. These electronics are also sent to UNICOR, and in FY19, 0.44 tons of personal electronics were recycled.
End-of-life is not the only electronics life-cycle phase where the Western Laboratory excels. Whenever possible, the laboratory purchases EPEAT Silver certified electronic products, reducing its environmental footprint and maintaining its ongoing commitment to leadership in sustainable procurement.
Department of Defense, Massachusetts (Barnes) Air National Guard, 104th Fighter Wing, Westfield, Massachusetts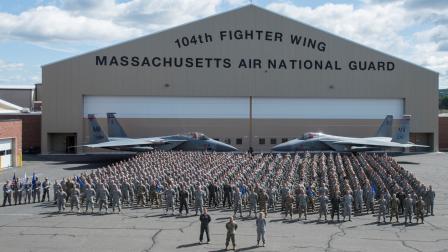 To meet or exceed the Federal Green Challenge's electronics goal, the 104th Fighter Wing of the Massachusetts Air National Guard, purchases electronic assets, including computers and printers, from mandatory Web-based Air Force system for purchasing IT. In FY19, the facility purchased 336 units of EPEAT certified Gold Level registered equipment, a 34% increase from FY18, and enabled power management monitoring on 94% of the EPEAT equipment. The National Guard Bureau also supports on-base personnel with the procurement of equipment that meet EPEAT standards. The 104th sets strong goals and work diligently in every way to achieve those goals 100%.
"We are honored to receive the Federal Green Challenge award for Electronics Management. The 104th Communications Flight always strives for environmental compliance in their daily work which demonstrates their commitment to the community and the environment." Jennifer Baker, Environmental Analyst.
Purchasing EPEAT equipment is just one of the many ways the 104th Fighter Wing works to achieve electronic program success. Base personnel diverted 2,619 lbs. of electronic waste from municipal solid waste. This is a prime example of the excellent teamwork of the 104th Fighter Wing. Between the awareness training and guidance from leadership, the electronic waste recycled is on a continual upward trend.
Purchasing
Department of Veterans Affairs, Minneapolis Veterans Affairs Health Care System, Minneapolis, Minnesota
The Minneapolis VA has been implementing a paper reduction strategy during the last three years. This has made double-sided printing the standard and electronic medical records have become widely used to the point medical records are rarely printed. Also, an electronic fax system has been deployed to increase the use of paperless records. These varied efforts resulted in a 31% decrease in the amount of paper purchased in FY2019.
Department of Veterans Affairs, Manchester Medical Center, Manchester, New Hampshire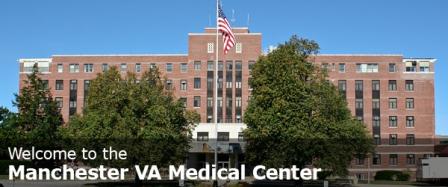 Manchester Veterans Affairs Medical Center (VAMC) achieved a 6.6 percent (1,980 pound) reduction in copy paper use from 2018 to 2019. During this time the facility defaulted its existing multifunctional printers to print duplex and enabled electronic meeting capabilities instead of printing for all its conference rooms. Extensive efforts were also made to streamline scanning and integration of patient health records into the electronic records management system. The Manchester VAMC put into place its new Environmentally Preferable Purchasing and Pollution Prevention Policy at the end of 2017 and has long worked to implement waste minimization and other sustainability measures. This effort is in keeping with the VA mission to deliver excellent healthcare to our nation's veterans by operating in such a way as to protect the health of, not only the patients, employees, and visitors, but also the environment.
"It is the mission of the Veterans Health Administration to honor America's veterans by providing exceptional health care that improves their health and well-being. As health care providers, sustainability is at the core of our healing mission and central to protecting the health of patients, staff, and the community. At Manchester VAMC, we take pride in our sustainability programs and the positive impacts they have on the environment and the communities we serve." Amanda Furtado, GEMS Program Manager.
Lessons Learned
Leadership buy-in and cross departmental cooperation is key to success
Standardize baseline data collection so that metrics can be tracked and compared over time
Small incremental steps over time can be very impactful
Establish sustainability into the planning and evaluation process (i.e. when considering and making purchasing decisions)
Transportation
Department of Energy, Argonne National Laboratory Energy, Lemont, Illinois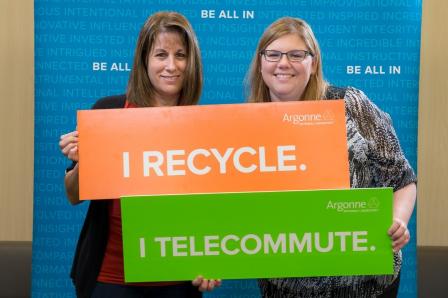 Argonne National Laboratory continues to use a robust data collection process through their timesheet reporting mechanisms to capture teleworking days/hours. They then convert those hours to a reduction in vehicle miles for people not driving to the lab when teleworking and had a 69% in the number of commuting miles not traveled because of teleworking. Thanks to their strong teleworking policies and support from the lab staff and management, this is the third consecutive year they have seen growth in people teleworking.
Department of Veterans Affairs, Central Arkansas Veterans Healthcare System, North Little Rock, Arkansas
The Central Arkansas Veterans Healthcare System located in North Little Rock, Arkansas, reduced its internal combustion engine vehicles from 100 in 2018 to 11 in 2019, resulting in an 89 percent improvement. The process used to reduce Central Arkansas Veterans Healthcare owned fleet was based on the following: usage, vehicle age, vehicle purpose, maintenance frequency, and environmental preferability.
Waste
Department of Veterans Affairs, James E. Van Zandt VA Medical Center, Altoona, Pennsylvania
The James E. Van Zandt Veterans Affairs Medical Center in Altoona, PA., composted over 338 tons of materials, a significant increase over the previous year. Most of the tonnage relates to construction of an environmentally beneficial stormwater retention swale and the renovation of the Victory Garden at this facility. The Victory Garden includes a pond and green area where veterans enjoy the outdoors and raised-planting beds. Flowers and vegetation are selected to encourage pollinators. The facility removed many non-indigenous trees in the Victory Garden and replaced them with native trees. Tree and vegetative wastes were mulched and used onsite. Also, a considerable amount of impervious surface was removed and used for a stormwater management project. Dirt, clay and stone were the components returned to a stormwater swale. The removed asphalt was reprocessed and reused. This facility operates a broad-based and award-winning environmental management and sustainability program. The facility spreads over 23 acres and uses a Green Environmental Management System (GEMS) to facilitate innovative solutions for complex problems which follows the Altoona GEMS slogan of "Protecting the environment while serving those who served."
Water
Department of Veterans Affairs, Minneapolis Veterans Affairs Health Care System, Minneapolis, Minnesota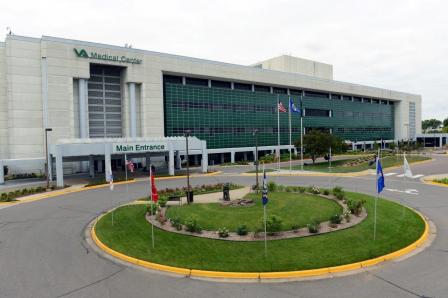 The Minneapolis VA has reduced its landscaping irrigation water use by changing their landscaping design to decrease the amount of annual horticultural flowers that are planted; these types of flowers often require more irrigation water. They have replaced them with landscaping that emphasizes more perennial and local native plants, which often have deeper and more developed root systems, and thus don't need as much irrigation. Other efforts have included a major tree planting effort and planting some native perennials that attract pollinators. Their permitted irrigation area is up to 10 acres, but they have significantly reduced the area being irrigated with these new types of plantings. This has resulted in a 43% decrease in landscaping irrigation water used, over one million gallons, in FY2019.