Federal Green Challenge Results for 2013
The Federal Green Challenge 2013 results are the criteria upon which the 2014 awards are determined.
On this page:
2013 National Results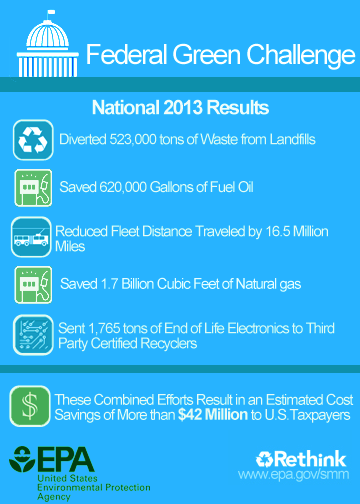 In 2013, over 400 participating federal facilities, representing nearly 1.6 million federal employees, "walked the talk" in various target areas (Waste, Electronics, Purchasing, Water, Energy and/or Transportation) and reduced their environmental footprint, which in many cases resulted in significant cost savings.
National results of FY13 participant actions were calculated based on annual incremental change and/or improvement in the various target areas.
Diverted 523,000 Tons of Waste from Landfills
Saved 620,000 Gallons of Fuel Oil
Reduced Fleet Distance Traveled by 16.5 Million Miles
Saved 1.7 Billion Cubic Feet of Natural Gas
Sent 1,765 tons of End of Life Electronics to Third Party Certified Recyclers
These Combined Efforts Result in an Estimated Cost Savings of More Than $42 million to U.S. Taxpayers
2013 South Central Region Results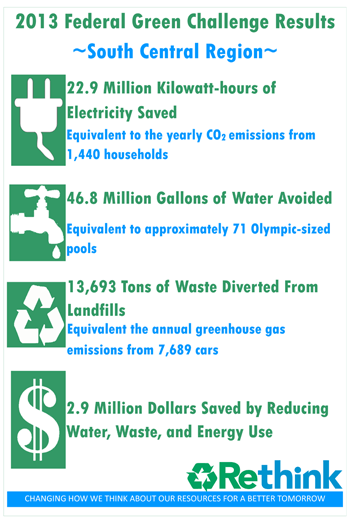 Recognition is an important part of the Federal Green Challenge (FGC). Awards were given at the regional level in the categories of Waste, Purchasing, Energy, Water and Innovation.
In the South Central region, the 2014 award winners are the 1 Justice Park Drive Federal Building, Health Resources and Services Administration, Houston Customs House, New Orleans Customs House, Capulin Volcano National Monument and the Mike Monroney Aeronautical Center.
22.9 Million Kilowatt-hours of Electricity Saved - Equivalent to the yearly CO2 emissions from 1,440 households
46.8 Million Gallons of Water Avoided - Equivalent to approximately 71 Olympic-sized pools
13,693 Tons of Waste Diverted From Landfills - Equivalent to the annual greenhouse gas emissions from 7,689 cars
$2.9 million dollars saved by reducing water, waste and energy use
2013-2014 Pacific Southwest Region Results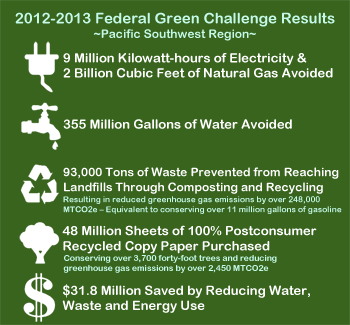 California's drought makes federal leadership on water conservation critical. Over the past two years, our regional Federal Green Challenge participants have conserved over 355 million gallons of water. EPA encourages all federal facilities and employees to expand water conservation efforts.
9 Million Kilowatt-hours of Electricity and 2 Billion Cubic Feet of Natural Gas Avoided
355 million gallons of water avoided
93,000 Tons of Waste Prevented from Reaching Landfills Through Composting and Recycling
Resulting in reduced greenhouse gas emissions by over 248,000 MTCO2e – equivalent to conserving
over 11 million gallons of gasoline
48 Million Sheets of 100% Post-consumer Recycled Copy Paper Purchased
Conserving over 3,700 forty-foot trees and reducing greenhouse gas emissions by over 2,450 MTCO2e
$31.8 Million Saved by Reducing Water, Waste and Energy Use