Updates for Flint Drinking Water Response
Feb. 4, 2016: EPA Response Activities - EPA today released early sampling results showing that lead-removal filters are working as expected in Flint homes with high lead levels. The agency continues to recommend that Flint residents use NSF-certified filters in their homes. EPA will continue to sample locations where earlier results detected lead above the NSF filter rating level.
Feb. 2, 2016: EPA Response Activities - The U.S. Environmental Protection Agency is reminding Flint residents to take steps to remove debris that may have accumulated in faucet aerators, hot water heaters, and whole-house water filtration systems.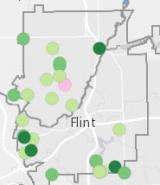 Jan. 30, 2016: EPA Response Activities - The U.S. Environmental Protection Agency is releasing preliminary water quality data about chlorine levels in Flint's drinking water, as well as an interactive map of sampling results in Flint. The map includes data from initial chlorine testing. As additional data become available, EPA will post the sampling locations and data to the map.
Jan. 29, 2016: EPA Response Activities - NSF-International certified lead-removal filters are being distributed in Flint by the state of Michigan to remove lead from household water and make it safe for people to drink. EPA began sampling drinking water in households with known lead levels of 100 parts per billion or higher, in order to test the effectiveness of these filters at removing lead at high concentrations. The goal of this sampling effort is to determine how well the certified filters perform at removing lead from household drinking water. We have confidence in the filters, but we're double checking the high lead homes with sampling to ensure that the filters work in these cases.
Jan. 28, 2016: EPA Response Activities - EPA teams are collecting drinking water samples from Flint homeowners to better understand how lead is behaving in the plumbing in their homes and to ensure proper corrosion control is being restored in the drinking water system in order to lower lead levels. EPA community involvement and sampling teams continue to meet with residents to explain the sampling process and answer questions.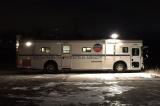 EPA Region 5 mobile command post arrives in Flint, MI.Jan. 27, 2016: EPA Response Activities - EPA continues to work with drinking water system operators at the city of Flint treatment plant. EPA's response team includes 29 response personnel, scientists, water quality experts, community involvement coordinators and other support staff.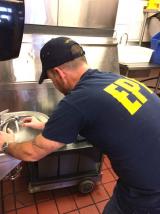 An EPA employee collects a water sample to send for analysis at the laboratory.Jan. 26, 2016: EPA Response Activities - An EPA team of sampling experts collected chlorine samples at locations throughout the city of Flint drinking water system, with a focus on locations that would be the most likely to have lower chlorine levels. The results of the EPA sampling show that chlorine is present in the system, with levels in some areas of the system that could be improved.