Adaptive Real-Time Contaminant Detection and Early Warning for Drinking Water Distribution Systems
Inventors: Yingping Jeffrey Yang (Cincinnati, OH), John Hall (Cincinnati, OH), Roy C. Haught (Independence, KY), James A. Goodrich (Union, KY).
Owned by EPA
Patent Information from the U.S. Patent and Trademark Office (Link)Exit
Federal Technology Transfer Act (FTTA) staff: Contact us if you are interested in learning more about how to license this technology.
Summary of the Technology
This invention provides a new way to detect slugs of contaminant signals in the water distribution system by using conventional water quality sensors.
Background
A distribution system is a network of water pipes, power, and storage devices delivering finished water from a water plant to individual users (i.e., residential, commercial, government, schools, and industry). Typically, well or river water is pumped to a water plant for treatment and production. Finished water is then pumped to a water storage tower and flows into a network of pipes toward the end users. The total length for a typical distribution network can be hundreds of thousands of miles.
Contaminants can be introduced into a distribution system in intentional sabotage, terrorist attack, accident or in naturally occurring incidences such as negative pressure siphoning in broken pipes. In such occasions, contaminated water volume is small compared to the rest of the water inside of the pipe. After entering the pipe, contaminants of a finite volume disperse and transport in the form of a contaminated water body or "slug". At the same time, they react with chemical disinfectants that are added to water in compliance of drinking water regulations. Contaminants in the pipe can cause changes in water quality parameters due to their reactions with the water or just by simply mixing with the water body, which can be detected by changes in chlorine, chloride, nitrogen, pH, oxidation-reduction potential, conductivity, turbidity, and dissolved oxygen. There is a need to detect contaminants introduced to water pipes and to measure sudden changes in water quality that can lead to non-compliance of drinking water regulations. This invention can do both and has the advantage of being able to do so with a low false identification rate of below 5%.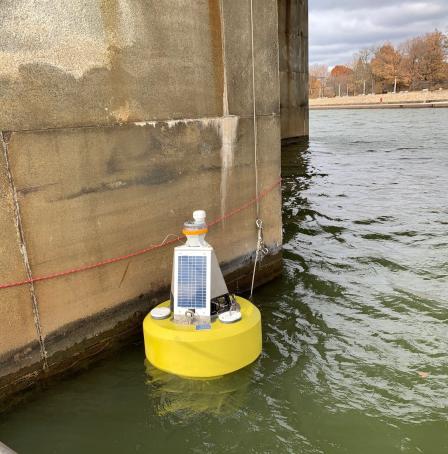 The Steps involved in the Contaminant Detection
Optoelectronic and other conventional water quality sensors offer a potential for real-time online detection of chemical and biological contaminants in a drinking water supply and distribution system. The process used by this invention can reduce false detection rates to less than 5%.
The basic steps in an adaptive detection procedure of the invention are:
Determining baseline values for water components – This can be determined in the distribution system at a local monitoring station.
Determining the presence of a contaminant – Contaminant can be a chemical component or an aberrant concentration of chemical component of the water at that local monitoring station or water plan.
Identifying the contaminant and location of contaminant – Contaminant can again be a chemical component or aberrant concentration
Changing sensor sampling schedule – This is generally a warning response to the data from step three.
Additional Information
It has significantly reduced false detection rates than conventional technologies, can identify contaminant classes, and has real-time detection/warning generation.
It is originally developed for drinking water distribution systems and can be used for both biological (E. Coli, terrific broth, etc.) and chemical (pesticides, herbicides, mercuric chloride, etc.)
The technology and patent are available for licensing and have now extended in technology development for real-time stream/river monitoring.
It uses advanced sensor signal processing to amplify signals of contaminants, reducing background noise, and identifying contaminant classes.