EPA Technology Available for Licensing: Optical Remote Sensing of Fugitive Releases
Inventors: Eben Thoma, Cary Secrest, William Mitchell, William Squier
Owned by EPA
Patent Information from the U.S. Patent and Trademark Office website
Federal Technology Transfer Act (FTTA) staff: Contact us if you are interested in learning more about how to license this technology.
---
Summary of the Technology
There are many benefits to reducing fugitive emissions of hazardous air pollutants (HAPs) from industrial facilities.  These benefits include enhanced protection of human health, improved worker safety, and the realization of cost savings by companies.  Unlike stack emissions, fugitive releases are difficult to detect. Fenceline monitoring using optical remote sensing can augment existing leak detection and repair programs by helping workers to quickly pinpoint and repair leaks.
The ultraviolet (UV) form of this open-path optical sensor technology is called the deep UV optical sensor (DUVOS).  DUVOS assists in detection and measurement of fugitive emissions of hazardous air pollutants (HAPs) in industrial settings and other sensor applications.  The approach relies on the strong broad-band optical absorption of many HAPs in the deep UV spectral region. This provides a robust measurement approach that has the following characteristics: 
Integrated compound detection (non-speciating)
High sensitivity (strong optical absorption)
High speed (real-time measurements)
Low maintenance (no sample handing or lab analysis)
Low cost (eliminates spectrometer)
Multiple configurations

Extended open-path (fenceline or in-plant monitoring),
Open-cage optical cell (high speed point monitoring)
Building ventilation monitoring (cross-vent)
Miniature optical cell (low cost sensor applications)
Mobile monitoring (mobile leak detection)
Background
EPA recently amended the National Emission Standards for Hazardous Air Pollutants from Petroleum Refineries.  EPA is now requiring fenceline measurements for benzene as a surrogate for facility fugitive emissions using time-integrated passive samplers.  Simple and cost effective time-resolved fenceline monitoring strategies can assist in execution of these requirements.  Additionally, there is growing interest in lower cost technologies to detect HAPs in building ventilation and in homes, or with personal sensors. 
The DUVOS approach can assist in development of next generation, lower cost HAP measurement systems for a variety of applications.  Improved detection and mitigation of fugitive emissions of HAPs is an important emerging topic in many industrial sectors.  Also important is the development of low cost, small format HAP sensor approaches. 
How the Technology is Different
Typical UV optical spectroscopic measurement approaches speciate the individual compounds present in the air.  For example, commercially available open-path UV differential optical absorption spectrometers may spectrally resolve and report the individual path-averaged concentration of compounds such as benzene, toluene, ethylbenzene, or isomers of xylene (collectively referred to as BTEX).  In addition to the optics and light source, this process requires a high-resolution spectrometer, computer, and analysis system.   The spectrally resolved measurement of any specific BTEX component is accomplished somewhere in the 240 nm to 270 nm spectral region (see figure) where compound-specific "finger print" spectral absorption features occur.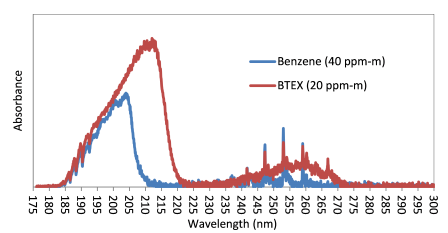 The principle of operation is differential absorption of light in the 200 nm range compared to the 280 nm range. Numerous inorganic and organic hazardous air pollutants possess strong broadband absorption in the 200 nm spectral region. These absorption features terminate in the 210 nm to 230 nm region depending on the compound and are very difficult to speciate due to lack of fine structure with the exception of a few compounds. The DUVOS system is based on balanced differential comparison of light throughput in two spectral regions using a broadband detection scheme employing bandpass filters and solar blind dual channel detection.
The DUVOS approach operates in the integrated deep UV optical band (200 nm - 220 nm).  Many HAP compounds have strong broad-band absorption features in this area of the spectrum, the integrated value of which greatly exceeds their "finger print" absorptions in other areas of the spectrum.  Using a simple, on-band / off-band filter-based approach, high sensitivity discrimination of the deep UV integrated absorption band is readily accomplished.  No spectrometer or computerized spectral analysis is required.