Learn about the EPA's Federal Technology Transfer Act Program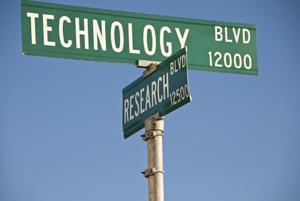 EPA seeks opportunities to transfer federal technologies into the marketplace, and collaborate on environmental research and development projects with outside partners. These partners include:
Industry
Academia
Trade associations
State and local agencies
International companies and governments
Consortia
What is the Federal Technology Transfer Act (FTTA)?
The Federal Technology Transfer Act (FTTA) (15 USC 3710) provides a vehicle to share Agency knowledge and expertise with outside partners through collaborative agreements and licensing.
Potential partners can take advantage of opportunities to create or further develop solutions to environmental problems. Through these collaborations both EPA and its partners can:
Expand research capabilities.
Accelerate research results.
Share resources.
Stimulate new business and economic development.
Enhance U.S. economy in efforts to protect human health and the environment.
The alliance that is formed through the FTTA program:
Supports and improves U.S. competitive positions worldwide.
Helps remove barriers to collaboration.
Encourages cooperative research and development with the goal of commercialization.
There are two main components of EPA's FTTA Program:
Federal Technology Transfer Act and related legislation
The Federal Technology Transfer Legislation and Policy ("The Green Book") (PDF) (138 pp, 1 MB, About PDF) Exit developed by the Federal Laboratory Consortium, provides specific language regarding FTTA and related legislation.