Process Diagram for a Quality Assurance Plan (QAP)
Help Tools
For further information on a Q-RIN:
Below is a diagram that shows the process to create, submit, and activate a Quality Assurance Plan (QAP). It shows the interaction between the OTAQ Registration System (OTAQREG), the EPA Moderated Transaction System (EMTS), and EPA.
QAP Process Diagram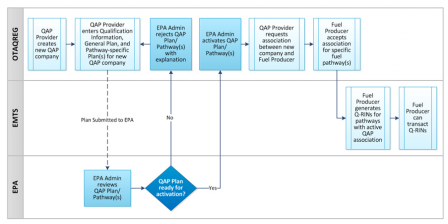 Click the image to view a larger version.
Key:
QAP = Quality Assurance Plan
OTAQREG = the OTAQ Registration System
EMTS = the EPA Moderated Transaction System
EPA = the United States Environmental Protection Agency
Q-RINs = a RIN verified by a registered independent third-party auditor using an approved QAP