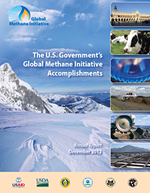 The 2012 U.S. Government's Global Methane Initiative Accomplishments report summarizes the contributions of participating U.S. government agencies and highlights their 2011 projects and activities.
This report was developed collaboratively by EPA, the U.S. Department of State, the U.S. Agency for International Development, the U.S. Department of Energy, the U.S. Department of Agriculture, and the U.S. Trade and Development Agency.
You may need a PDF reader to view some of the files on this page. See EPA's About PDF page to learn more.