Grants Mining District Geographical Subareas
Ambrosia Lake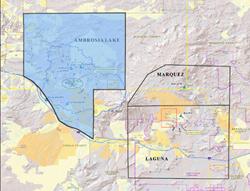 The Ambrosia Lake sub-district is a large sub-district located in Cibola and McKinley counties in northwest New Mexico. Ambrosia Lake contained the majority of the uranium mines and four uranium mills operating in the sub-district from the early 1950s until 2002, with most active operations ceasing in the 1980s.
Ambrosia Lake contains:
---
Marquez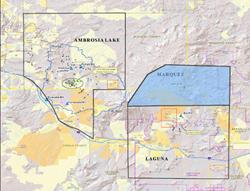 The Marquez sub-district covers portions of McKinley, Cibola and Sandoval Counties. Despite significant mining exploration, only one uranium mine operated from 1979 to 1980, the Rio Puerco Mine. The Bokum Mill was constructed in the area with the expectation that uranium ore from active mines would be milled. With the decline in the price of uranium in the early 1980's, mining ceased and the mill was later dismantled.

 
---
Laguna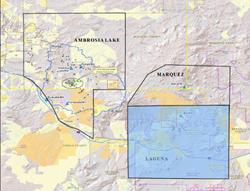 The Laguna sub-district is located within the Pueblo of Laguna and had one of the richest uranium ore deposits in the United States. The Jackpile-Paguate Mine operations started in 1953 and ceased in 1982, while being the largest open pit uranium mine in the world during its operation.
Laguna contains: