Regional Grants Information
The information that you require for your region is at your fingertips and just one click away.  Please use the map below to select the regional grants office near you.
EPA Region-Specific Grant Information
You can find grant information specific to your region by using the map below or the links provided below.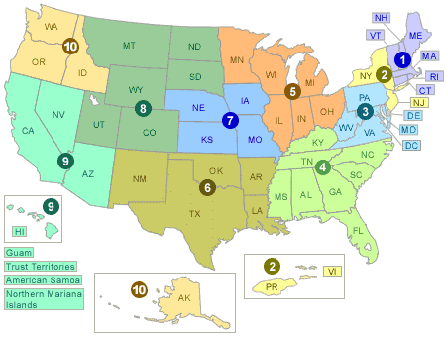 ---
Region 1 (CT, MA, ME, NH, RI, VT) Grants for your Region: Information that is specific to EPA Region 1
Region 2 (NJ, NY, Puerto Rico, Virgin Islands) Grants for your Region: Information that is specific to EPA Region 2
Region 3 (DE, DC, MD, VA, PA, WV) Grants for your Region: Information that is specific to EPA Region 3
Region 4 (AL, FL, GA, KY, MS, NC, SC, TN) Grants for your Region: Information that is specific to EPA Region 4
Region 5 (IL, IN, MI, MN, OH, WI) Grants for your Region: Information that is specific to EPA Region 5
Region 6 (AR, LA, OK, NM, TX) Grants for your Region: Information that is specific to EPA Region 6
Region 7 (IA, KS, MO, NE) Grants for your Region: Information that is specific to EPA Region 7
Region 8 (CO, MT, ND, SD, UT, WY) Grants for your Region: Information that is specific to EPA Region 8
Region 9 (AZ, CA, HI, NV, American Samoa, Guam) Grants for your Region: Information that is specific to EPA Region 9
Region 10 (AK, ID, OR, WA) Grants for your Region: Information that is specific to EPA Region 10