Saginaw River and Bay AOC
On this page: 
---
Latest News
Overview
The Saginaw River and Bay was designated as an Area of Concern under the 1987 Great Lakes Water Quality Agreement. Contaminated sediments, fish consumption advisories, degraded fisheries and loss of significant recreational values are the major reasons for this AOC designation. Saginaw Bay priorities include nonpoint pollution control, wetland and habitat restoration, and remediation of sediment contaminated with dioxin, PCBs and other organics. 
The Saginaw Bay area, located in the east central portion of Michigan's Lower Peninsula, is a southwestern extension of Lake Huron. The physical boundaries of the Saginaw River/Bay watershed AOC are defined as extending from the head of the Saginaw River at the confluence of the Shiawassee and Tittabawassee Rivers upstream of the city of Saginaw, to its mouth, and all of the Saginaw Bay out to its interface with open Lake Huron at an imaginary line drawn between Au Sable Point and Point Aux Barques.  Areas outside these physical boundaries, but within the Saginaw Bay drainage basin, are included in the RAP if they are known or suspected sources of contaminants to the Saginaw River and/or Saginaw Bay.
Contaminants in the AOC include dioxins, furans, PCBs, chloride, metals, acids, and excessive nutrients, such as nitrogen and phosphorus. Sources of these pollutants include industrial, municipal and stormwater discharges, as well as agricultural runoff.
​
Beneficial Use Impairments
An interim success of remediation and restoration work is removing beneficial use impairments. Beneficial use impairments are designations given by the EPA representing different types of significant environmental degradation. As cleanup work is completed, and monitoring demonstrates sufficient environmental health improvements, BUIs can gradually be removed. The list below shows which BUIs have been removed, and which remain.  Once all BUIs are removed, the process of delisting the AOC can begin.
Beneficial Use Impairments for the Great Lakes AOCs
The Saginaw River and Bay AOC has twelve of the fourteen potential beneficial use impairments. Three of those, Tainting of Fish and Wildlife Flavor, Restrictions on Drinking Water Consumption, or Taste and Oder, and Loss of Fish and Wildlife Habitat have been removed. 
Saginaw River AOC BUI Removal Documents
Restrictions on fish and wildlife consumption
Eutrophication or undesirable algae
Tainting of fish and wildlife flavor – REMOVED 2008
Restrictions on drinking water consumption, or taste and odor 

– REMOVED 2008

Degradation of fish and wildlife populations
Beach closings
Degradation of aesthetics
Bird or animal deformities or reproduction problems
Degradation of benthos
Degradation of phytoplankton and zooplankton populations
Restriction on dredging activities
Loss of fish and wildlife habitat 

– REMOVED 2014
Assessment and Evaluation Studies
The Saginaw River and Bay AOC has nine remaining BUIs. Several of the existing BUI's are linked to the need for sediment contamination remediation. Sediment cleanup efforts continue upstream of the AOC currently, through the Superfund program. Many partners and local entities continue to work together to make progress and find ways to address challenges and advance the BUIs that remain.
The following projects are assessment and evaluation efforts necessary to collect baseline information, identify current conditions and track trends. The results of these efforts will be used to determine the status of each related BUI and help determine which actions will need to be implemented for BUI removal.
Remediation and Restoration Projects for Saginaw River and Bay AOC
Assessment Highlight: Colonial Waterbird Population, Reproduction, and Health Impairments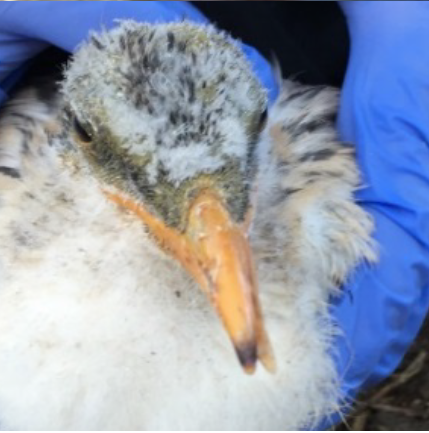 A Caspian Tern chick with a cross-bill deformity found on confined disposal facility (CDF) in Saginaw Bay, 2016. (Credit: Keith Grassman, Calvin College)
Beginning in 2010, with support from the Great Lakes Restoration Initiative (GLRI), researchers from Calvin College and the U.S. Fish and Wildlife Service (FWS) have investigated how persistent organic pollutants (POPs), including PCBs and dioxins, impact Herring Gull (Larus argentatus), Caspian Tern (Hydroprogne caspia), and Black-crowned Night Heron (Nycticorax nycticorax) populations, reproduction, and health within Saginaw Bay. Because these fish-eating birds can bioaccumulate contaminants from their food, these birds can indicate the effects of contaminants on species high in the food chain and overall ecosystem health.
Understanding how contaminants affect these birds is an important step towards removal of two BUIs:
Bird or Animal Deformities or Reproductive Problems
Degradation of Fish and Wildlife Populations
Researchers and FWS have collected data from water birds on Charity Reef, Little Charity Island, and the Confined Disposal Facility (CDF) in the Saginaw Bay and from less polluted reference sites on Lakes Huron and Superior. Infertility and egg mortality are higher within the Saginaw Bay sites than at reference sites. Chicks within the Saginaw Bay also had higher deformity rates, slower growth rates, and their immune system was compromised compared to reference sites. Research is expected to continue until recovery metrics are met and BUIs are removed.
Assessment Highlight: Assessing the Bird or Animal Deformities or Reproductive Problems Beneficial Use Impairment
The Saginaw River and Bay AOC is among six Areas of Concern in Michigan that currently have a Bird or Animal Deformities or Reproductive Problems Beneficial Use Impairment. Via the GLRI, U.S. FWS partnered with the Michigan Department of Environment, Great Lakes and Energy (EGLE), to perform a state-wide assessment of the BUI at each AOC. This review highlighted data gaps which, if addressed, would offer AOC managers a more accurate determination of the contamination exposure of wildlife.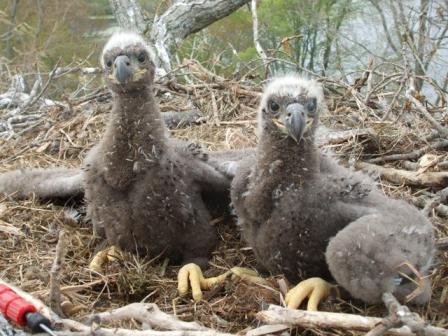 Continuing blood sampling for bald eagle chicks can provide information needed to assess the Bird or Animal Deformities or Reproductive Problems BUI status in the Saginaw River and Bay AOC. (Credit: Jeremy N. Moore)
This assessment examined the impacts of DDE (a breakdown product of DDT), polychlorinated biphenyls (PCBs), and dioxin toxic equivalents (TEQs) on bald eagles (Haliaeetus leucocephalus), Caspian terns (Hydroprogne caspia), and mink (Neovison vison) in the Saginaw River and Bay AOC. Examining these effects is particularly important since they were the basis for the original BUI listing. In addition, the results of recent studies on other colonial nesting birds, black-crowned night heron (Nycticorax nycticorax), tree swallows (Tachycineta bicolor), walleye (Sander vitreus), common carp (Cyprinus carpio), and forage fish in this AOC were reviewed. For this AOC, it was recommended that the Bird or Animal Deformities or Reproductive Problems BUI be retained, and that studies on bald eagle productivity and contaminant levels, contaminant concentrations in herring gulls and fish, and heath and productivity of colonial nesting birds continue so that the status of the BUI may be evaluated in the future.  
Evaluation Highlight: Bald Eagle Productivity Flights and Partnerships Investigating Contaminants in Chicks
GLRI funding has given the U.S. FWS the opportunity to conduct flights to determine bald eagle nesting and breeding success (productivity) in targeted AOCs, including the Saginaw River and Bay AOC, beginning in 2015. These efforts are a sub-project of the larger efforts to assess the Bird or Animal Deformities or Reproductive Problems BUI in Michigan AOCs.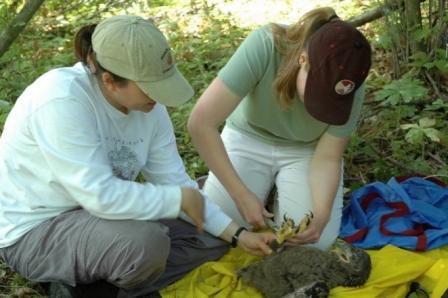 Researchers band a bald eagle nestling after collecting blood for contaminant analyses. (Credit: Fish and Wildlife Service)
In the Saginaw River and Bay AOC, fish are a substantial part of eagle diets, which can lead to eagles accumulating aquatic contaminants including polychlorinated biphenyls (PCBs) and DDE (a breakdown product of DDT). FWS has partnered with the Michigan EGLE to pair productivity information with information from a concurrent EGLE study investigating contaminant levels in bald eagle chick plasma within the AOC. Data are currently being analyzed, and results will help illustrate linkages between reproductive success and contaminants in eagles throughout this AOC.
This information will provide a two-pronged approach to understanding the effects of contaminants on wildlife in this AOC and will allow informed decisions regarding the removal of two BUIs:
Bird or Animal Deformities or Reproductive Problems
Degradation of Fish and Wildlife Populations
Additionally, these efforts build on a long-term state-wide bald eagle flight survey started in 1961 and monitoring of contaminants in eagle chicks that began in 1987.
 
Partners
The following links exit the site Exi