Great Lakes Chlorophyll-a Monitoring
On this page:
---
What is chlorophyll-a?
Chlorophyll-a is a green pigment found in plant and algae cells that is necessary for photosynthesis

photosynthesisThe process by which green plants use sunlight, water, and carbon dioxide to make food and other substances that they use to grow. In the process, plants release oxygen into the air..
Why does GLNPO monitor chlorophyll-a?
Chlorophyll-a can be used as a measure of photosynthetic activity and algal biomass

biomassThe amount of a living species, expressed as a concentration or weight per unit area. in the lakes.  Algae are the base of the Great Lakes food web. Without algae, organisms higher up the food chain (zooplankton, benthos, Mysis, and fish) would not survive. But too much algae can also lead to harmful algal blooms (HABs). Monitoring chlorophyll-a in the lakes is important for understanding the algae levels and resulting impacts on Great Lakes health and food webs.
How does GLNPO sample and analyze chlorophyll-a?
GLNPO collects water samples using the Rosette Sampler. The Rosette Sampler contains bottles that collect water samples at different depths as it is lowered through the water column from the surface of the lake to the bottom waters.  Water samples are filtered and algae are caught on the filters.  Chlorophyll-a in the algae is measured.  A second way of measuring chlorophyll-a is by using information from satellite pictures. The intensity of the colors in the satellite photos is related to the concentration of chlorophyll-a in the water.  GLNPO uses both methods.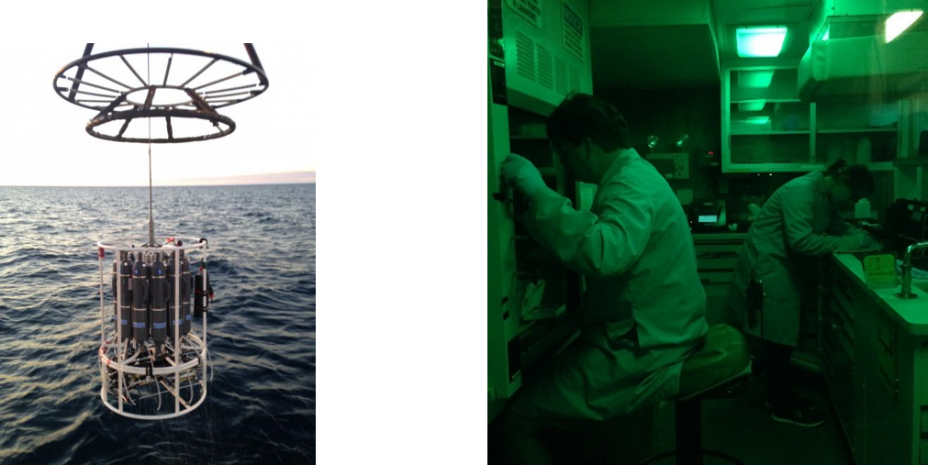 (L-R) The Rosette Sampler being lowered off the R/V Lake Guardian into Lake Superior; Scientists analyzing chlorophyll-a in the biology laboratory onboard EPA's R/V Lake Guardian.
What are the resulting data trends?
Chlorophyll-a concentrations in open water show decreasing trends in Lakes Michigan, Huron and Ontario. In Lake Superior, the chlorophyll-a concentrations are relatively constant; while Lake Erie's chlorophyll-a concentrations have shown an increasing trend.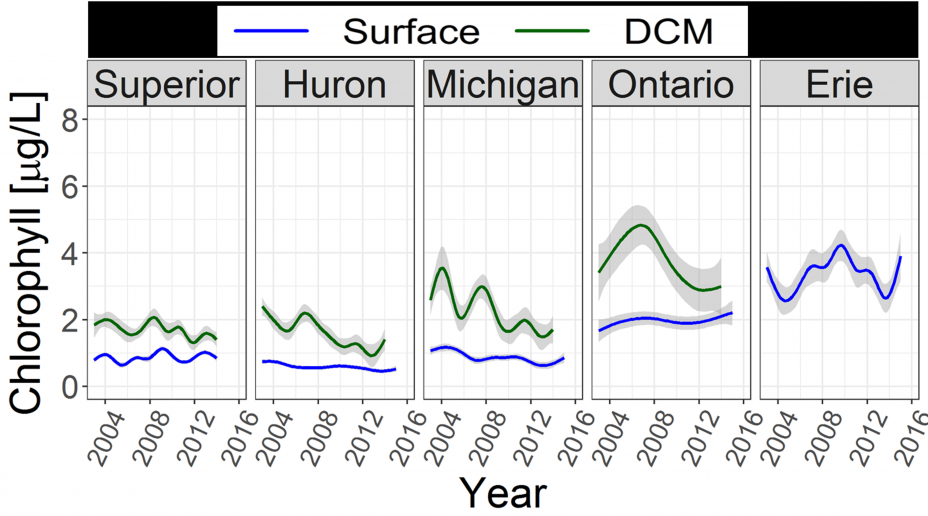 The Deep Chlorophyll Maximum (DCM) chlorophyll-a concentrations in Lakes Michigan, Huron, and Ontario have been declining in recent years, while Lake Superior has remained relatively constant. The DCM is an increase in subsurface water chlorophyll and phytoplankton biomass, first documented in the Great Lakes in the 1970s.