Great Lakes Integrated Atmospheric Deposition Network - Master Stations
IADN and Canada's Air Monitoring in the Great Lakes Basin program form a joint binational monitoring network that has been in operation since 1990. There are five master monitoring stations, one near each of the Great Lakes.
Eagle Harbor on Lake Superior;
Brule River on Lake Superior;
Sleeping Bear Dunes on Lake Michigan;
Sturgeon Point on Lake Erie; and
Point Petre on Lake Ontario.
To understand better the contribution of urban sources to lake wide loadings, IADN also has two satellite stations located in Chicago and Cleveland.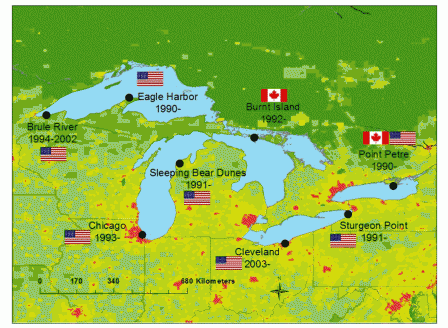 Integrated Atmospheric Deposition Sampling Network