Great Lakes Integrated Atmospheric Deposition Network - Sampling Methods
Air samples are collected for 24 hours every 12 days using a high-volume air sampler. The high-volume sampler captures particles in the air by using a vacuum pump to pull air through a filter. The particles then pass through a resin cartridge called an adsorbent to capture gases. 
High Volume Sampler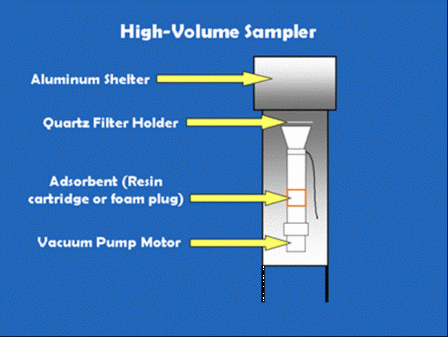 Every month a mechanical precipitation

precipitationWater falling to the Earth. Mist, sleet, rain, hail, fog and snow (wet deposition) are the most common kinds of precipitation. sampler collects rain and snow precipitation samples. When rain or snow falls, a sensor

sensorAn instrument that measure (senses) a physical condition or variable of interest. Floats and thermocouples are examples of sensors. detects the moisture and the retractable roof of the precipitation sampler opens, exposing a funnel-shaped catch basin. Rain and snow fall into the funnel, then through the resin column. The resin captures the pollutants.  The water, with the pollutants removed, drains into a container. The volume of water measured in the container determines the amount of precipitation that fell during the one-month sampling period. 
Precipitation Sampler
Meteorological Data Tower
A tower at each site remotely transfers information onto a data logger which records meteorological

meteorologicalPertaining to the weather. measurements such as:
The data is then analyzed to determine the quantity and pollutant type.