Importance of Great Lakes Coastal Wetlands
Within the Great Lakes Basin, wetlands support many beneficial ecological functions, as well as economic and cultural values. Great Lakes coastal wetlands play an important role in the Great Lakes ecosystem, providing habitat for many plant and animal species, hydrologic retention, nutrient cycling, shoreline protection, and sediment trapping.
Ecological Functions
Coastal wetlands support a great biodiversity, or a large variety of animal and plant species. This includes some species that are rare, threatened, or even endangered. This biodiversity helps drive the Great Lakes food web, with up to one-third of primary productivity originating in coastal wetlands.[1]
More than 80 species of fish rely directly on coastal wetland habitat at some point in their life cycle and over 50 species are solely dependent on coastal wetlands for the entirety of their life cycle.[2] Many fishes such as Northern Pike, Yellow Perch and Bowfin spawn in coastal wetlands; others such as Walleye rely on coastal wetlands to provide nursery habitats. Other species, including federally endangered or threatened species such as the piping plover, dwarf lake Iris, Karner blue butterfly, and the Blanding's turtle use Great Lakes coastal wetlands for resting, feeding, and nesting habitat.
Economic and Cultural Values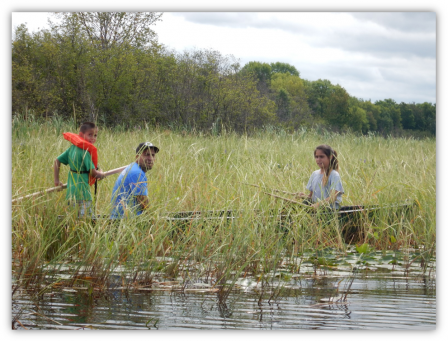 View large version of this picture.
This photo was taken in the Kakagon Sloughs in northern Wisconsin. The picture shows participants (youth and parents) in the Youth Manomin (Wild Rice) Harvest Workshop that the Tribe hosts annually where the kids get a chance to learn about and practice manomin harvesting.Economic values of coastal wetlands include water quality improvement, recreation, shoreline protection, and property protection against storms and flooding. Great Lakes coastal wetlands play an important role in improving the water quality of the Great Lakes. Nutrients and other contaminants from upstream sources are filtered, captured and used by wetland plants, and trapped within the wetland. Excess nutrients entering the Great Lakes can cause an increase in algae and plant growth, leading to algae blooms and low dissolved oxygen levels. Coastal wetlands help with the removal of nutrients that may otherwise flow into the lakes.
Recreation benefits that coastal wetlands support include sport fishing, waterfowl hunting, trapping, bird watching, and photography. These recreational activities account for more than $50 billion dollars annually in economic activity within the Great Lakes region.[3] Great Lakes commercial and recreational fisheries, which have an annual revenue of $7 billion dollars (U.S. only) and provide nearly 75,000 jobs, are supported by the many fish species that use coastal wetlands.[4]
Coastal wetlands provide a buffer of protection for shorelines, reducing property damage during storms as the plants absorb the energy of the waves.
Tribes have been harvesting wild rice from Great Lakes coastal wetlands for centuries. Coastal wetlands provide an important food source to these tribal communities and help preserve their cultural heritage.
---
References
[1] Brazner, J.C., M.E. Sierszen, J.R. Keough and D.K. Tanner. 2000. Assessing the importance of coastal wetlands in a large lake context. Proceedings Vegh. Internat. Vegein. Limnol 27:2950-1961.
[2] Jude, D.J., Pappas, J. 1992. Fish utilization of Great Lakes coastal wetlands. Journal of Great Lakes Research 18:651-672.
[3] Austin, J.C., Anderson, S., Courant, P.N., Litan, R.E., 2007. America's North Coast: A Benefit–Cost Analysis of a Program to Protect and Restore the Great Lakes. Brookings Institute, Washington DC.
[4] ASA. 2013. Today's angler: A statistical profile of anglers, their targeted species and expenditures. Alexandria, VA, American Sportfishing Association.
---
Back to: About the Great Lakes Coastal Wetland Monitoring Program