Summary of the Great Lakes Coastal Wetland Monitoring Program (CWMP)
The Great Lakes Coastal Wetland Monitoring Program (CWMP) began in 2010. Funding for the program is provided through the Great Lakes Restoration Initiative (GLRI). The goal of the CWMP is to establish a standardized, basin-wide approach to coastal wetland monitoring. Designated wetland sites are sampled each year on a rotating schedule by teams of scientists. At each wetland site, scientists collect indicator data for taxonomic groups and water quality parameters. During the sampling period of 2011-2015, just over 1,000 wetland sites were visited representing nearly 140,000 acres.
The program is designed to report on the current status of coastal wetlands condition by type and lake, as well as trends for coastal wetlands occurring over time. The program accomplishes this by assessing the biological, physical, and chemical health of the Great Lakes coastal wetlands. Information gathered by these efforts can be used by resource managers and decision-makers to decide effectively how to best prioritize future restoration, protection, and monitoring.
Taxonomic Groups
There are five taxonomic groups sampled and surveyed by scientists at each of the wetland sites. These groups are used as indicators for assessing the health of the coastal wetlands.
Amphibians
As a connection between land and water, coastal wetlands provide a unique habitat for amphibians. Amphibians play an important role in the Great Lakes coastal wetland food web. Tadpoles provide food for fish, frogs are food for birds, and frogs eat insects like mosquitos.
Birds
Many bird species use coastal wetlands for feeding, breeding, or nesting habitat. Bird surveys provide insight on species population numbers and what wetland types and habitats they are using.
Fish
More than 80 species of fish use coastal wetlands for food, cover, spawning, or nursery habitats. Fish use particular coastal habitats for feeding, spawning, and as nursery areas for young fish.
Macroinvertebrates
Macroinvertebrates often spend their entire life cycle within a particular area; this makes them good indicators of site conditions. Macroinvertebrates also play a critical role in coastal wetland food webs. Their large numbers and diversity make them a good food source. Herbivorous macroinvertebrates provide a food link from plants to larger animals.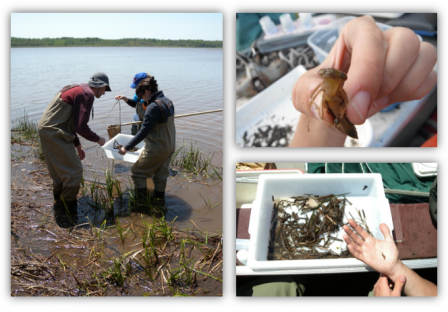 View large version of this picture.
Great Lakes Coastal Wetland Monitoring Program scientists sample for macroinvertebrates.
Plants
Plant sampling is performed in three different habitat types: wet meadow plant zones, emergent zones, and submerged zones. Each of these zones offers different habitats to the species that live there.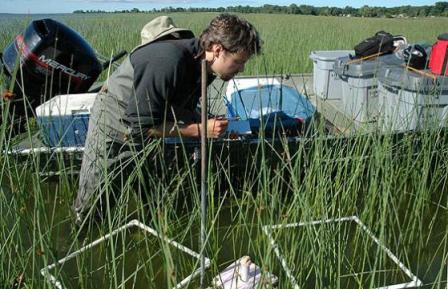 View large version of this picture.
A Coastal Wetland Monitoring Program scientist conducts a plant survey.
Water Quality Parameters
Several water quality parameters are sampled at each wetland site to determine the level of human and natural disturbances that a wetland experiences. These disturbances can include agricultural and stormwater runoff. They provide useful data on the potential impacts of land use in the surrounding watershed and ultimately help in determining the health of the wetlands.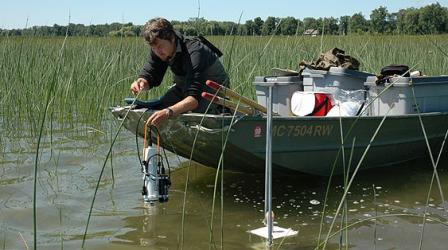 View large version of this picture.
Coastal Wetland Monitoring Program scientist monitoring for water quality.
Dissolved Oxygen
Dissolved oxygen is measured to determine how much oxygen is available to aquatic organisms. Factors that may influence dissolved oxygen levels include sunlight, water temperature, the presence of aquatic plants, turbulence or cloudiness of the water, and the type of bottom sediment.
Nutrients
Nutrients, such as nitrogen and phosphorus, are also measured at each wetland site. Agriculture, industry, and households often contribute excess nutrients to the wetlands. Excess concentrations of phosphorus can stimulate rapid algae and plant growth, which can lead to low dissolved oxygen levels when plants die and break down.
Particles, or Suspended Solids
Particles within the water column is another important measurement. High suspended solid concentrations can reduce light penetration for plant growth, and impair the sight of animals that hunt for their food visually.
Temperature
Temperature is measured and recorded at each wetland site. Temperature affects the density of water, the solubility of constituents (such as dissolved oxygen in water), pH (or how acidic the water is), specific conductance, the rate of chemical reactions, and biological activity in water.
Wetland Types
For sampling efforts, wetlands are separated into three categories: barrier (protected), lacustrine (coastal), and riverine.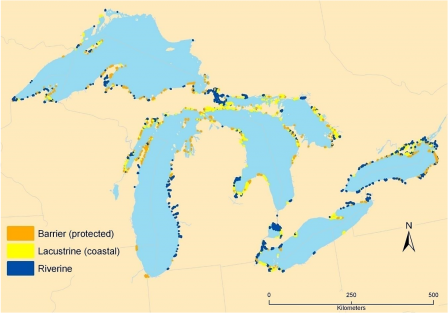 View large version of this picture.
This map shows the distribution of barrier (protected), lacustrine (coastal), and riverine coastal wetlands across the Great Lakes basin.
Barrier
Barrier (protected) wetland systems are typically found along harsher stretches of shoreline. These are either periodically or continuously connected to a lake by a channel or inlet and protected from wave action by a barrier beach or beach ridges.
Lacustrine
Lacustrine (coastal) wetlands are open directly to the waters of the Great Lakes. This type of wetland can only form in areas protected from the most severe wave action; thus, they tend to occur in large bays (e.g., Saginaw Bay).
Riverine
Riverine wetlands are more evenly distributed across the basin. They occur in rivers or channels that flow into or between the Great Lakes and often occur where the river mouth meets the lake.
---
Back to: About the Great Lakes Coastal Wetland Monitoring Program