Using Data to Guide on-the-Ground Work
Data collected by the coastal wetland monitoring program helps the Great Lakes National Program Office (GLNPO) make decisions on which projects to support by aiding in prioritizing protection and restoration efforts.
Coastal wetland conservation projects, such as the ones listed below, are examples of using Coastal Wetland Monitoring Program (CWMP) data to support science-based decisions that result in on-the-ground work. Basing these decisions on sound data helps ensure that projects are taking place where they are most needed and can be most effective.
Over 17,000 acres of wetlands have been improved since the program began. Projects range from wetland site enhancement to restoration to protection.
Explore Projects
View a larger map
to explore the full application to filter by State, Region, or District and to view additional layers.  
Enhancement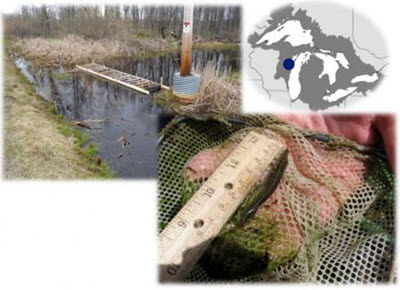 View large version of this picture.
Enhancement project on the western shores of Green Bay, WI. (Figure 1)The definition of enhancement is the manipulation of the physical, chemical, or biological characteristics of a site to heighten, intensify, or improve specific functions. 
Enhancement projects may include removal, control, or monitoring of an invasive plant, as well as native plant reestablishment.
Invasive species management efforts, such as the project pictured in Figure 1 on the western shores of Green Bay, WI, fall under the enhancement projects. Removal of the invasive common reed (Phragmities australis) helps improve spawning habitat for species like the young Northern Pike shown above.
 
Protection
The protection of coastal wetlands includes actions taken to maintain natural functional systems or portions of systems and prevent their loss and degradation.
Some wetland sites are less impacted by human development or ecological changes; to prevent degradation of these areas, protection plans can be put in place.
Pictured below in Figure 2 is a project site identified in northern Wisconsin as a high quality wetland by the CWMP. Efforts to permanently protect wetlands can be amplified by increasing coastal wetland projects adjacent to state lands.
The Bark Bay Slough State Natural Area along Wisconsin's Lake Superior shoreline is truly a special place. With dark tannic open water, scattered islands draped in boreal forest, and sedge meadows with shrubby margins, this coastal wetland offers people a glimpse of times past. It is home to many common species like northern pike and bald eagle, but also to rare species like the bog copper butterfly and dragon's mouth orchid. In recognition of this high quality habitat, the Wisconsin Department of Natural Resources (WDNR) established Bark Bay as a State Natural Area in 1977 to maintain this site in excellent condition. To date, 646 acres have been acquired at Bark Bay, with an overall acquisition goal of approximately 1,000 acres. Through the Great Lakes Restoration Initiative, the WDNR and EPA partnered to acquire an additional 52 acres within this Project Area, including 17 acres of coastal wetland. Protection projects like these are the most cost effective way to maintain water quality, recreational access and habitat.
Restoration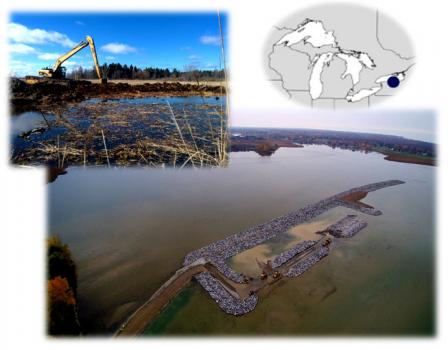 View large version of this picture.
A coastal wetland restoration project on Braddock Bay, NY. (Photo Credit: Josh Unghire - USACE) (Figure 3)Restoration is the process of seeking to return an ecosystem to the condition it was in before it was degraded, damaged, or destroyed.
Restoration projects include efforts such as restoring hydrologic connectivity of wetlands, revegetation of large areas, or removing barriers to fish movement.
In the Rochester Embayment Area of Concern, projects to restore sedge/grass meadow, reduce the extent of invasive cattail, and provide open-water access for fish and wildlife have been conducted at Buck Pond, Long Pond, Buttonwood Creek, Salmon Creek, and Braddock Bay. At Braddock Bay, the long-eroded protective barrier beach has also been restored.
The Braddock Bay restoration project which includes channels and potholes in the dense cattail areas, sedge meadow restoration, and barrier beach construction is shown in Figure 3.
Data collected under the CWMP supported all of these projects as well as many more.
---
Back to: About the Great Lakes Coastal Wetland Monitoring Program