Learn the Basics About Tribal Green Building
Green building can help maintain the natural resources that have historically sustained them and make buildings healthier and more affordable
Native Americans are the First Green Architects and Builders of the Americas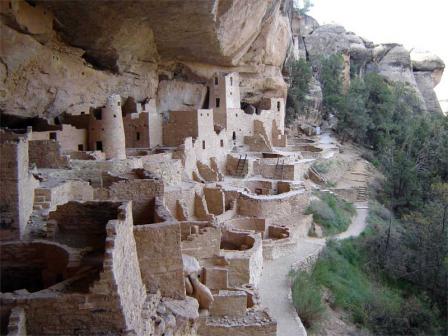 Mesa Verde Multi-family Cliff Dwellings in Colorado made from earthen material. More information about Mesa Verde »Despite tribes' early and long history of sustainable building practices, modern tribal buildings often do not incorporate many green building practices. Tribal green building can integrate traditional knowledge and values into tribal building codes. Green building can help maintain the natural resources that have historically sustained them and make buildings healthier and more affordable.
Getting Started
Tribes interested in green building practices can use EPA's Green Label programs for buildings and products: ENERGY STAR, Indoor airPLUS, WaterSense, and Burn Wise.
Tribal Green Building Toolkit
Tribes, as sovereign nations, have the authority to adopt their own building practices and codes. This is particularly important because state and local building codes, which include green building requirements, do not apply on tribal lands. Developed with tribes, the EPA Tribal Green Building Toolkit provides information and resources on prioritizing and implementing green building practices.
Benefits
Benefits of Tribal Building Codes
Funding
Federal, and in some cases tribal and state agencies, provide grants and loans that can be used to support tribal green building, renewable energy, and affordable housing.
More information about funding opportunities
---