Green Infrastructure Research Programs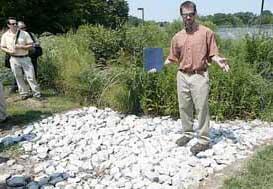 Federal and academic programs across the country are engaged in laboratory, modeling, and field studies of the design and performance of green infrastructure practices. Current research spans multiple scales and examines a variety of benefits.
Learn more on this page about some of the programs and their efforts.
EPA Green Infrastructure Research Program—EPA scientists and engineers are developing tools, guidance and best practices to support communities working to manage stormwater runoff.
U.S. Forest Service Northern Research Stations: Urban and Community Forestry Exit—This program provides support to states, cities, and nonprofit groups so they can plant and manage community trees and forests.
U.S. Forest Service Pacific Southwest Research Station: Urban Ecosystems and Social Dynamics Program Exit—This program examines the interconnections between people and natural resources, especially in California, Hawaii, and U.S.-affiliated Pacific Islands.
U.S. Geological Survey Wisconsin Water Science Center Non-Point Evaluation Studies—The center conducts studies of water-quality issues caused by runoff and contamination of the environment from sources spread widely across an area.
Stormwater Management: Structural Soils in Urban Forestry Exit—Virginia Tech's Urban Forestry Gateway, Cornell's Urban Horticulture Institute, and the U.S. Forest Service's Center for Urban Forest Research are partnering on this research initiative. Resources available on the website include:
a 55-page stormwater management practice manual,
a PowerPoint presentation, and
information on four demonstration sites across the country.
North Carolina State University Stormwater Engineering Group Exit—The  group investigates the function and impacts of green infrastructure practices, including:
bioretention areas,
green roofs,
stormwater wetlands,
permeable pavements, and
water harvesting systems.
Southern Illinois University Edwardsville Exit—SIU Edwardsville is involved in a collaborative research initiative focusing on the benefits and performance capabilities of green roofs.
Temple University Center for Sustainable Communities Exit—The center develops and promotes new approaches to protecting and preserving quality of life through sustainable development. It is a working resource for government agencies, community organizations, and developers, providing objective information and services to improve decision-making concerning land use and water resources planning. The center also conducts interdisciplinary research and offers educational and community outreach programs.
University of Florida Program for Resource Efficient Communities Exit—This program promotes the adoption of best design, construction, and management practices that measurably reduce energy and water consumption and environmental degradation in new residential development projects. It supports implementing green infrastructure and other resource-efficient community development practices through:
direct training and consulting activities,
applied research projects and case studies,
academic courses and degree programs, and
evaluation of "green" certification standards.
Drexel University Water and Sustainable Land Use Program Exit—This program evaluates green infrastructure applications in urban areas.
University of Minnesota Stormwater Research Program Exit—This program is:
developing new treatment technologies,
providing guidance for assessing and maintaining treatment practices,
investigating ground water impacts from stormwater infiltration, and
improving models for runoff and treatment practices.
University of Maryland Bioretention Laboratory Exit—The laboratory researches the performance of rain gardens and swales in a variety of contexts.
University of New Hampshire Stormwater Center Exit—The center is currently involved in researching a wide range of green infrastructure practices, including:
vegetated swales,
porous pavements,
tree boxes, and
pocket wetlands.
University of Washington Green Futures Lab (GFL) Exit—The GFL develops innovative approaches to ecological planning and design of public space. Through interdisciplinary research, design, and education, faculty and students advance solutions using urban green infrastructure—streets, trails, parks, open spaces, drainages, and shorelines—that together comprise interconnected networks of the public realm. The networks support successful dense urban settlement, providing facilities that could help protect climate, preserve biodiversity, foster equitable health, and improve quality of life. The GFL works with communities to explore solutions that incorporate:
low-impact development strategies,
community space,
habitat restoration, and
pedestrian and bicycle mobility.
Villanova University Urban Stormwater Partnership Exit—The research partnership focuses on innovative stormwater management practices, most of which can be categorized as green infrastructure techniques.