Presidential Green Chemistry Challenge: 2015 Greener Synthetic Pathways Award
LanzaTech Inc.
LanzaTech Gas Fermentation Process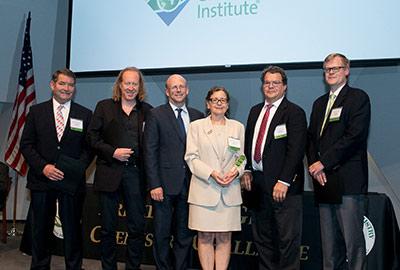 Jim Jones, Former Assistant Administrator of EPA's Office of Chemical Safety and Pollution Prevention, with awardees from LanzaTech, Inc.Innovation and Benefits: LanzaTech in Skokie, Illinois, is being recognized for the development of a process that uses waste gas to produce fuels and chemicals, reducing companies' carbon footprint. LanzaTech has partnered with Global Fortune 500 Companies and others to use this technology, including facilities that can each produce 100,000 gallons per year of ethanol, and a number of chemical ingredients for the manufacture of plastics. This technology is already a proven winner and has enormous potential for American industry.
Summary of Technology: Carbon gas streams are often byproducts of established processes. When they cannot be utilized efficiently they are wasted, normally through venting or flaring. The conversion of carbon monoxide-rich gases through synthetic chemical pathways, for example Fischer-Tropsch or methanol synthesis, requires that H2 be available in the synthesis gas. Waste industrial gases often do not contain H2 and therefore cannot be converted using conventional synthetic pathways. Gas fermentation technologies have also stalled because gas toxicity requires expensive microbe conditioning and leads to gas solubility limitations.
LanzaTech developed a method to utilize gas streams with a range of CO and H2 compositions to produce fuels such as ethanol and chemicals such as 2,3-butanediol at high selectivities and yields. While both CO/CO2 and H2 are utilized in the process, LanzaTech's proprietary microbes are also able to consume H2-free CO-only gas streams, due to the operation of a highly efficient biological water-gas shift reaction occurring within the microbe. The process is facilitated by the enzyme-catalyzed chemistry of the Wood-Ljungdahl pathway whereby CO2 and CO can be converted in a water-gas shift reaction catalyzed by carbon monoxide dehydrogenase (CODH). Through a series of intermediates, CO and CO2 are ultimately fixed as acetyl-CoA by the CODH/ACS complex.
The process is a highly efficient conversion of acetyl-CoA to ethanol, as this is actually linked to growth of the organism. LanzaTech has also manipulated the organism for high yields of specific products (e.g. the microbes can make a single enantiomer of 2,3-butanediol), eliminating the need to separate and find markets for co-products. These microbes operate close to ambient temperature and atmospheric pressure and are tolerant to high levels of toxicity. LanzaTech has overcome the gas solubility limitations through proprietary bioreactors that increase volumetric mass transfer by creating more interfacial area per volume bubble size. This results in higher product yield and productivity.
Life cycle analysis studies performed in partnership with MTU, E4Tech, and Tsinghua University, China, have shown that the LanzaTech gas fermentation process can produce fuels from steel mill off-gases with GHG emissions that are 50-70% lower than those of fossil fuels. Particulate matter and NOx emissions are also reduced. LanzaTech's gas fermentation simultaneously makes valuable fuels and/or chemicals while mitigating the environmental effects of waste and residual industrial emissions. LanzaTech has partnered with over 10 global Fortune 500 Companies across a variety of sectors, including chemicals companies, INVISTA and EVONIK.
---
Other resources:
---
Note: Disclaimer
Return to the list of all winners including the 2015 Award Winners.