GreenChill Launch
EPA held a launch ceremony in November 2007 to recognize the 10 founding partners of the GreenChill Advanced Refrigeration Partnership. These partners joined GreenChill to promote the use of advanced supermarket refrigeration technologies, strategies, and practices that reduce emissions of ozone depleting and greenhouse gas refrigerants.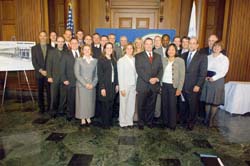 EPA representatives gather together with all the founding partner representatives: (left to right, front row) Dawn Currie Reeves of Harris Teeter; Gina Rye of Food Lion; Susan Sollenberger of Food Lion; Steve Sloan of Publix Super Markets; Bella Maranion, GreenChill Team; Bob Meyers, AA of OAR, EPA; Keilly Witman, GreenChill Team; (left to right, second row) Dave Godwin, GreenChill Team; Wayne Rosa of Food Lion; Andy Mayo of Hannaford Bros.; Kevin O'Shea of DuPont; Kathy Loftus of Whole Foods Market; Julius Banks, GreenChill Team, Tim Juliani, Pew Center on Global Climate Change (formerly a GreenChill Team member); Cliff Timko of Giant Eagle; (left to right, back row) Jeff Cohen, GreenChill Team; Harrison Horning of Hannaford Bros.; Nick Strickland of DuPont, Art Aleshire of Hannaford Bros.; Kyle Mitchell of Food Lion; Ray Hoglund of Hill Phoenix; Robert Fennell of Honeywell; and Scott Martin of Hill Phoenix
Launch Event Video and Audio
Refrigeration Technology Visuals Displayed at Launch Event
For more information about the GreenChill Launch event, please contact Tom Land (land.tom@epa.gov) or 202-343-9185.