Information for Component Manufacturers and Service Technicians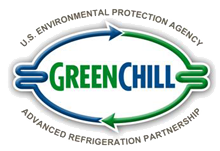 Suppliers and manufacturers of retail equipment as well as service technicians for refrigeration systems play a key role in reducing emissions of ozone depleting substances and greenhouse gases. Though EPA is currently investigating the expansion of the Partnership to include these two groups of stakeholders, capacity limitations prevent us from taking this step in the near future. However, GreenChill recognizes the contribution component manufacturers, service contractors and technicians, and other stakeholders make in the effort to reduce harmful refrigerant emissions.
In order to include other organizations who cannot become partners but who are interested in the Partnership and its goals, GreenChill has created a group on the LinkedIn network. LinkedIn is a networking system that connects people in related fields and allows professionals to share knowledge. The LinkedIn group membership is broader than the Partnership's official members, allowing anyone affiliated with the supermarket industry or sustainability initiatives to join the group. As part of the GreenChill LinkedIn Group, you will have the opportunity to share your expertise, develop connections with others in the industry, and stay updated on GreenChill activities.
In the future, GreenChill hopes to have the capacity to allow other members into the partnership. If you are interested in becoming a GreenChill Partner but are not eligible at this time, please send your contact information to Kirsten Cappel. We will keep you updated on any new opportunities to be involved with the GreenChill Partnership.