Best Practices for Increasing Resiliency at EPA Facilities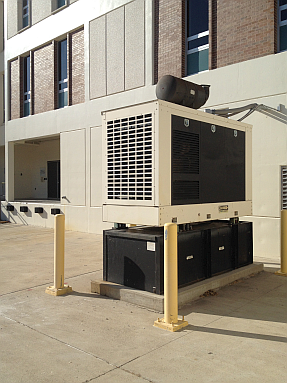 This emergency generator at EPA's Robert S. Kerr Environmental Research Center in Ada, Oklahoma, is elevated to protect from possible damage associated with stormwater runoff.EPA has identified numerous best practices for its facilities to implement to enhance resiliency against various extreme weather event stressors:
Flooding
Avoid new construction in special flood hazard areas. When construction is necessary in these zones, build to at least two feet above the 100-year flood elevation. For more critical buildings (e.g., data centers), build to at least three feet above the 100-year flood elevation.
Carefully consider the location of mechanical systems, information technology infrastructure, pipe conduit entry points and other mission-critical equipment.
Ensure that drainage systems and site grading are designed to direct water away from the facility.
Wind
Meet or exceed building code requirements for wind-resistant construction in coastal areas and other locations that experience high-wind events.
Install impact-resistant windows in facilities located in in areas that experience tornadoes, hurricanes and other high-wind events.
Drought
Reduce potable water consumption through the use of WaterSense® labeled products and innovative reuse of greywater (e.g., air handler condensate, rainwater harvesting).
Implement water-efficient landscaping and irrigation strategies.
Heat
Consider the impact of window insulation values and building envelope features during design to increase thermal comfort under projected extreme temperature scenarios.
Wildfire
Create clear zones around buildings in areas with increased wildfire risk.
Combined Stressors Associated With Severe Weather
Source supplies and services locally to reduce vulnerabilities in the supply chain.
Ensure reliable backup power to critical research equipment and facility areas.
EPA is incorporating some of the lessons learned from its resiliency assessments into the Agency's space planning and design guidelines. This will help increase the resiliency of all future construction projects and major renovations.