EPA Headquarters, Potomac Yard One
Arlington, Virginia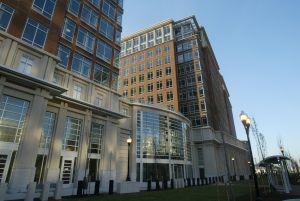 312,460 rentable square feet (RSF)
Energy Intensity:
FY 2019: 65,231 Btu per RSF
Water Intensity:
FY 2019: 10.92 gallons per RSF
EPA's Office of Research and Development, Office of Land and Emergency Management, and Office of Chemical Safety and Pollution Prevention are located in the Potomac Yard One building.
Sustainable Features
Potomac Yard One received the U.S. Green Building Council's LEED® Gold for New Construction (version 2.1) level certification in June 2006.
Potomac Yard One received LEED Gold for Existing Buildings (version 2.0) certification in July 2008 and received LEED Platinum for Existing Buildings (version 2009) certification in January 2014.
Potomac Yard One has earned the ENERGY STAR® annually since 2007, most recently in 2018 with a score of 93.
A highly reflective, ENERGY STAR qualified roof reduces the amount of solar heat absorbed by the building, decreasing the building's cooling load while minimizing the heat island effect.
Additional commissioning and above-standard building mechanical system controls and monitoring capabilities optimize mechanical system performance and minimize energy use at the building.
Water-efficient urinals, dual-flush toilets, and low-flow faucets with electronic shutoff, native landscaping and drought-resistant plants reduce water use.
Sand filters treat stormwater runoff to reduce total suspended solids entering the Potomac River by more than 80 percent and total phosphorous by 40 percent.
A 1,711-square-foot green roof was installed on the area of roof that connects Potomac Yard One.
Thirty-five percent recycled content (approximately 670,000 pounds of ground granulated blast-furnace slag) was used in portions of the below grade, poured-in-place concrete structure.
Indoor air quality is protected by the use of low volatile organic compound interior adhesives, paints, sealants, caulks, environmentally preferable janitorial and cleaning products and integrated pest management practices.
For more information, read Sustainable Facilities at EPA: One and Two Potomac Yard, Arlington, Virginia or visit the EPA Facility Contact List.