National Computer Center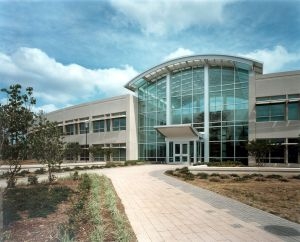 95,322 gross square feet (GSF)
Energy Intensity:
FY 2019: 511,289 Btu per GSF
23.3% reduction from FY 2003
Water Intensity:
FY 2019: 3.26 gallons per GSF
33.4% reduction from FY 2007
Research Triangle Park, North Carolina
The National Computer Center (NCC), provides large-scale computing services for EPA nationwide.
Sustainable Features
NCC received the U.S. Green Building Council's LEED® Silver for New Construction (version 2.0) certification in January 2005.
The NCC building was awarded the ENERGY STAR® in 2015 with a score of 76.
NCC meets the Guiding Principles for Sustainable Federal Buildings due to its existing LEED certification.
An extensive, third-party review of the data center's operating conditions resulted in EPA shutting off six of the facility's 13 computer room air conditioning units, while still meeting the sensitive cooling needs of the computer equipment. EPA also optimized and diversified the location of energy-intensive equipment to better match heat loads and cooling capacity.
Energy-efficient lighting includes high-efficiency fluorescent lighting, motion sensors, daylight dimming sensors and manual override switches.
Variable speed motors, fans and pumps meet actual energy demand and therefore prevent energy waste. Outside air economizers reduce energy costs by bringing in outside air when the temperature and humidity meet acceptable levels.
A building automation system (BAS) controls temperature, pressure, humidity, electrical systems, computer room cooling units, cooling and heating equipment, maintenance indicators, lighting and security.
A 100-kilowatt, integrated roof power system installed on the roof of the NCC is one of the largest photovoltaic (PV) installations on the East Coast. The system's PV cells are also backed with foam that increases the building roof's thermal insulation.
 
For more information, visit the RTP campus website or the EPA Facility Contact List.
Visit Sustainable Design of EPA's Campus in Research Triangle Park, North Carolina, for details about the environmental requirements included in this facility's construction contract.